Shakespeare coined the expression that 'Some are born great, some achieve greatness, and some have greatness thrust upon them.' In some cases, all three apply and it is as true in the horse world as it is anywhere else.
Like some people, some horses are simply born a little different and a little more special than the rest and a horse that definitely qualifies is Carry On Alice. As great horses usually come with great stories, I persuaded part-owners and husband and wife team, Professor John and Dr Jill Warner to tell me why there is just something special about Alice.
When I rang a few days after Alice's swan song in the Gr1 SA Fillies Sprint, the Warner's were still on Cloud 9. Possibly even Cloud 10 or 11 and that's saying something as even on an ordinary day, Jill's smile is dazzling enough to light up the whole of the racecourse.
Serendipity
It all started in 2012. Jill explains, "We'd both been having a particularly busy time at work and decided we needed a really organised holiday where we could just go along and someone else would run everything. We went to Horse Racing Abroad, which is now part of ITC Travel and they had this fantastic trip to South Africa which consisted of 20 couples and included a trip to the 2013 Met, a stud visit and some sight-seeing around Cape Town. It sounded perfect. Unfortunately that year the Met date was moved rather last minute, so other than ourselves and one other couple, the rest of our tour group cancelled their bookings. We couldn't change our dates, so instead of 40, there ended up being 4 of us on the trip." But sometimes things are meant to be.
"I still wanted to go racing, visit the stud and learn more about South African racing," continues Jill, "so the four of us went to Klawervlei. John Koster showed us around and introduced us to Captain Al and because we were such a small group, we got a really personal tour. John took us out for a lovely lunch at Van Loveren and the conversation turned to golf. I know nothing about golf and John noticed I was bored and handed me a sales catalogue saying 'I think you will probably enjoy reading that more than this conversation!' At this stage I knew nothing about South African racing or breeding, but I got to Carry On Alice and I cannot tell you why, but the page was shouting at me. I turned to John and said if we were going to buy (which we obviously were not), it would be that one. He said it was the one horse on their draft he really didn't want to sell."
Born Great
By champion sire Captain Al, out of the 4-time winning daughter of Western Winter, Carry On Katie and born at Klawervlei Stud's champion nursery, 'Alice' appeared to have it all. However, there was significantly more to the story. "The name Carry On Katie didn't mean anything to me at all that day at Van Loveren, but I learned subsequently that Katie was very special. She'd previously produced a colt and Alice was her second foal. The colt had been very big and difficult to deliver. Then Alice also had a very difficult birth. The problem was that Katie produced very big foals. Her last foal was so big that they couldn't get it out and she damaged her pelvis. John still cries when he tells the story," she says quietly. "They fought to keep her alive and even had her in a sling, but eventually had to let her go. This had all happened a few weeks before the sale when we bought Alice, so that was one of the reasons John didn't want to sell. Everyone at Klawervlei says Katie was the most amazing mare and it was devastating to lose her. It just makes Alice all the more special that she's one of only two foals and that she has continued what her mum started."
"We went to look at the sale as you do and fell in love with her completely. John gave us the confidence to bid and Andrew Miller was on the rostrum – I'll never forget it. We came in at around R375k. Someone bid at R400k and we went to R425k. Then there was another bid at R450k. Andrew looked at me and said 'Madam, 2 seconds ago this horse was yours. Are you going to bid again? We went to R475k and the rest is history." The Warners raced Alice in partnership with Chris van Niekerk and Klawervlei Stud and she was trained by Sean Tarry.
Achieving Greatness
The next time the couple saw Alice was on a trip in 2014. "We arranged to see her at Sean Tarry's stables in Joburg. Two days before we got there, Sean got in touch and said he was going to run her. She'd had 1 previous run when she finished third (we weren't in the country for that), but as it turned out we were there for her second start at Turffontein and it was her first win. It was absolutely amazing. We've still got pictures of that. And obviously it all went from there."
'Alice' ran in some rather eye-catching colours and when attending her races, the Warners always came dressed to match. "People refer to us as Mr & Mrs Carry On Alice," laughs Jill. "The colours are great fun. We chose them by committee. I wanted the purple and our daughters wanted the pink stars. John Koster said we had to have yellow sleeves so that we could see her if there was a bunch coming to the line, so that's how we ended up with them. It's quite a combination, but very special I think. Those are now registered as my colours and all our new horses will run in them as well."
From 29 starts, Alice posted 11 wins – 5 at Gr1 level – including the Computaform Sprint and her incredible SA Fillies Sprint double. She was also instrumental in helping Klawervlei, Sean Tarry and S'manga Khumalo to their respective championships. "Even John Koster says he knew she was going to be good, but had no idea she was that good!" laughs Jill. Sadly the Warners missed attending her last run and had to watch it on TV. "It was very bitter-sweet not being there. It was a last minute decision to have that run and by the time the decision was made, we had plans we could not change in the UK. Watching everybody out there and all the emotion attached to that last run was absolutely incredible. I think everybody was in tears."
Greatness Thrust Upon Her
"I was in tears for the whole race and quite a lot afterwards. She had the race of a lifetime. It was absolutely perfect and it was such a joy after last time. Last year Scottsville clashed with the Epsom Derby and Chris, John and ourselves were all at Epsom watching it on the screen. That was probably one of the worst races for her. She was blocked and couldn't get through. She tried so hard and she was so frustrated – it was heartbreaking to watch. To see the complete opposite this year and watch her come through the middle and be there from the start was just wonderful. That's the way she loves to race. She doesn't need cover. S'manga got every second of the race right. He has been on her for every single one of her 11 wins and most of her 13 places and he's very special too. We enjoy seeing him at the races and he and Alice really do have a special relationship, there's no doubt about it. You can see when he gets on her back in the parade ring, she relaxes as if saying 'oh, it's you'. It's lovely to see."
Warning that she was going to set me off, Jill laughs 'It IS crying material! I've watched that last race back a couple of times and cried again – she is so so precious and the relationship she has created between us, Sean, Chris, John and the Klawervlei team is an incredible friendship. We are so lucky to be part of such a team of wonderful people. Alice has a fan club around the country and to have an involvement in a horse like that is something you can't even dream of."
About Alice
One of the joys of chatting to a fellow female racing enthusiast is that I can ask what Alice is like as a person, and Jill totally 'gets' the question. "She's a very tough lady, shall we say. When we first bought her, she was quite happy to be friendly and cuddly, but she's an interesting character. She's a horse that knows her own mind. The first time we visited her at Sean's yard, we went into the stable to talk to her and she tolerated us for about 2 minutes and when she realised we were not going to put food into her manger, she decided we should leave rapidly! Monique Mansour looked after her when she was in Cape Town for the Cape Flying Challenge, also said Alice chased her out of the stable one day. It's largely to do with food. She enjoys her food and if you're in the stable and not going to feed her, she doesn't think you should be there! Her stable is her realm and she lets you know it. Once she's out, she's absolutely lovely though. She loves being spoken to and you can cuddle and play as much as you like. We visited her on many occasions and obviously at the end of every single race whether she's won or hasn't she's cuddled and hugged and told what a good girl she is."
Where To Next?
Of course the burning question is 'what will Alice do next?' Jill confirms Alice will be heading to the UK to be bred to a European stallion. "We haven't made the decision which one – it will be John Koster's call as to what the best mating will be – but she will be bred Southern Hemisphere time and then more than likely go to Australia. It's quite a travel for the girl and originally we wanted her to stay in South Africa, but a mare of her quality deserves to go to the best in the world and that's what will happen."
‹ Previous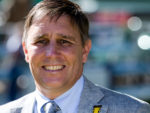 A Decade Of Winners