As we near the end of another season, we turn our minds to totting up the achievements of the past racing year to evaluate and celebrate our best. While statistics do not necessarily define greatness, they do lend us insight – or at least something to base discussion and opinion on!
When Aldo Domeyer rode a second set of six wins on a card this year, I did a bit of digging to see who else has achieved the feat. It was a really fun exercise and turned up a surprising number of names and trips down memory lane, so I thought I would share the results.
Finding the stats was somewhat hard going as so little of our history has been digitised and it is sadly not available at an easy touch of a button, so I should state in advance that this is not a definitive list, but is the best I could cobble together with the help of the NHA, jockeys, jockeys' wives, friends, family and racing fans from all over (and my thanks to you all).
If I've missed anyone, please feel free to drop us a line at the Sporting Post or in the comments section on our website so that we can verify and log any stray records.
Tiger Wright
One of the earliest records I could find was for multiple champion jockey, Harold 'Tiger' Wright, grandfather of current top SA rider, Bernard Fayd'herbe. Wright rode 7 winners from his 8 carded rides at Newmarket on 3 February 1960. He rode two winners (Grassmere and Aden Peace) for trainer George Azzie (grandfather of current trainer Mike), he rode another two winners (Gold Chain and Double Diamond) for the EJ Sparks string and one each for ETC Passmore (Review), DC Littlefield (Pachberry) and R Ralphs (Maritonic).
Basil Marcus
Basil Marcus rode 6 winners from 8 rides on the Milnerton card as an apprentice on 21 June 1975. His list of winners was Tracy Ann, Double Joy, Farsi, Persian War, The Kajar and Mithra. Five were by Persian Wonder and all six winners were trained by Theo de Klerk. Basil also has the distinction of being the first South African rider to achieve 100 winners in a single season as an apprentice.
Basil also rode 7 winners from 9 carded runners at Greyville on 3 December 1986 when he won on all of Singing Boy, Foreign Attache, Business Liner, Bold Candidate, Miss Lobkowiez, Harry's Champ and Hunting Queen.
Although never crowned SA Champion jockey, Basil was Champion Jockey in Hong Kong on 7 occasions (1991 – 1994, 1995 – 1999) and twice rode 5 winners on a card at Sha Tin (3 April 1993 and 29 May 1994).
Garth Puller
Garth Puller rode 7 winners from 9 rides at Kenilworth on 27 September 1980. Puller, who was SA champion jockey in the 1978/1979 season and is now a trainer, rode the first five on the card as well as race seven and race nine. Four of his winners were for Peter Kannemeyer and three for Bert Abercrombie.
MJ Odendaal
MJ Odendaal, SA National Champion Jockey for the 2004/05 season, rode 6 winners on the Clairwood card on 6 April 1993 and repeated the achievement at Turffontein on 9 July 1994, when he won aboard Can't Buy Me Love, Race Me, Crystal Kid, Miami Beach, Nordicus and Mighty Millie. To add to the feat, all six winners were trained by Gary Alexander.
Jeff Lloyd
Six time SA Champion jockey, 'The Guv' has had such an extraordinary career that his list of achievements needs to be told in three parts. He has ridden 7 winners on no less than 3 occasions in South Africa. The first time was on the Turffontein card on 18 May 1991. He also rode 7 winners at Clairwood Park on 16 June 1995 as well as at Scottsville on 11 February 2001.
Jeff rode 6 winners on a card on no fewer than 5 occasions, starting with the Vaal on 21 August 1991, Turffontein on 28 March 1992, Clairwood on 30 January 1993 and at Clairwood again on 9 February 1993. Perhaps his most spectacular six was on 27 January 2007, when his six wins at Kenilworth included three Gr1's – the Majorca Stakes on Sun Classique, the Cape Derby on Jay Peg and the J&B Met on Pocket Power.
Lloyd emigrated to Australia in 2007 and has more or less continued where he left off, clocking 5 wins on the Eagle Farm card on 17 September 2016 and 7 winners at the Sunshine Coast on 30 November 2016.
Doug Whyte
Speaking of international exploits, Doug Whyte may not have a South African champion title in his trophy cabinet, but 13 Hong Kong Championships is not bad going. From a card of 8 rides, he also rode 6 winners (plus 2 close seconds) on a Hong Kong card on 7 April 2013, racking up a record-breaking 94 points for the jockeys challenge.
Felix Coetzee
Felix Coetzee has 3 South African Championship titles to his name and has achieved 6 winners on a card on 4 separate occasions. The first came at Milnerton on 16 March 1985, the second at Greyville on 30 July 1988 (which included the Gold Cup on Castle Walk), the third time was at Clairwood on 13 August 1988 (including the Mercury Sprint on Splendid Ann) and his last card of 6 was also at Clairwood on 16 May 1992.
Michael 'Muis' Roberts
Muis Roberts, 11-time South African Champion Jockey, rode 6 winners on the Clairwood card on 22 December 1987. He is also the only South African jockey to date to win the English Jockey Championship, a feat he achieved in 1992.
Mark Khan
Mark Khan was South African Champion Jockey on no less than 5 occasions and achieved 6 winners on the Vaal card on 1 May 2007.
Anton Marcus
Four-time SA Champion jockey Anton Marcus has ridden 6 winners on a card on three occasions. The first came at Newmarket on 3 March 1993, then at Bloemfontein on 20 June 2000 and lastly, at Clairwood on 24 April 2011.
Piere Strydom
Piere 'Striker' Strydom has 6 SA Championship titles to his credit to date and is part of a select club of riders to have ridden 7 winners on a card. He achieved the feat twice, bringing home 7 winners at Germiston on 14 July 1990, as well as finishing second in the famous Brainteaser-Divine Act match race. He also brought home 7 winners on the Newmarket card on 4 July 1990.
To add to this, Piere has ridden 6 winners on a card at Turffontein on 27 June 1992 as well as on 9 August 1995 (when all six were trained by Gary Alexander). He brought home six winners at Greyville on 6 June 1998, 6 at the Vaal on 15 August 2000 and 6 at Turffontein on 28 April 2001, which included 5 feature winners – Young Rake (Champion Stakes), Kushka (Egoli Sprint), Global Legend (Gold Bowl), Palace Line (Protea Stakes) and Glamour Boy (Nearco Handicap). His most recent 6 timer was on 24 April 2003 at the Vaal and he has also won all six legs of the Pick Six.
Anthony Delpech
Anthony Delpech has won the South African Championship on two occasions (1998/99 and 2002/03). He is also responsible for breaking Jeff Lloyd's record of 331 wins in a season and setting the new record at 334. Anthony rode 6 winners on the Greyville card on 16 November 1997 and 6 on the Clairwood card on 26 August 1998.
Bartie Leisher
1986 Durban July winning jockey, Bartie Leisher rode 6 winners on a card on 6 September 1986. Although he was never awarded a South African title, he achieved international fame and was Hong Kong Champion Jockey for the 1987/88 season.
Robbie Sham
1992 July winning jockey Robbie Sham rode 6 winners on the Clairwood card on 6 April 1990.
Weichong Marwing
1996/97 SA Champion Jockey, Weichong Marwing rode 6 winners on the Turffontein card on 1 January 1992 and repeated the feat at the Vaal on 8 April 2004.
Gavin Venter
Gavin 'The Stickman' Venter rode 6 winners on the Arlington card on 6 January 1995.
S'manga Khumalo
S'manga Khumalo made history as the first black rider to win the Vodacom Durban July in 2013 as well as being the first black rider to win the SA Jockey Championship and he currently has 2 South African titles to his name. S'manga rode 6 winners at Turffontein on 5 March 2016, including the Listed Storm Bird Stakes and the Listed Ruffian Stakes. Five of his wins were for the Sean Tarry stable and the other for Lucky Houdalakis.
Grant van Niekerk
Multiple Gr1-winner and Plattner Racing's current stable jockey, Grant van Niekerk rode a card of six winners at Kenilworth on 21 July 2014.
Aldo Domeyer
2013 Met winning jockey Aldo Domeyer is the latest member of the club, riding 6 winners on Kenilworth's midweek card on Wednesday, 11 January 2017 and added a second set of 6 on 27 May 2017, including the Cape Fillies and Colts Nursery double. Both winners were by What A Winter and both for his boss Candice Bass-Robinson.
Honourable mentions
Karl Neisius, who was Cape Champion Jockey 10 times and rode at the very top of his profession until chronic back problems forced his unwilling retirement at the age of 58, rode 5 winners on a card on no less than 7 occasions during his 40+ years in the saddle.
When discussing longevity in the saddle, no record can be complete without a mention of the evergreen Stanley Amos, who started his career in the early 1930's and retired from professional race riding on 3 July 1983, three months shy of his 65th birthday.
Life is busy and memories are short, but we have a lot of fantastic riding talent out there and a lot of guys working hard to bring our winners (and our also rans) home safely. As they say, if you're on a horse, you've already won.
‹ Previous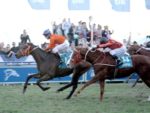 There's No Beating The Panel!