In a letter dated 11 July 2017, Larry Wainstein, in his capacity as CEO of the Racing Association, issued an offer to qualifying members of the RA to purchase Phumelela shares.
The Racing Association has subscribed for listed securities in Phumelela Gaming & Leisure Limited for allocation to its members which it is making available to "all members in good standing at 31 May 2017,"  at the "discounted price" of R17.39 per share.  For full details, interested parties are asked to contact Natalie Turner by email at [email protected] by no later than 17:00 on 20 July 2017).
The RA will be holding a series of information sessions at Turffontein, Fairview and Kenilworth for interested parties to raise any questions or request information relating to the offer.
Information sessions are scheduled as follows:-
17 July 2017 at Turffontein's 3rd Floor Hawaii Room starting at 18h00
18 July 2017 at Fairview's 1st Floor Member's Facility starting at 18h00
19 July 2017 at Kenilworth's Paddock Room starting at 18h00
Anyone interested in attending is requested to RSVP by email to [email protected] by Friday, 14th July 2017
‹ Previous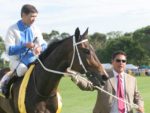 Mister Magic!