The Cape Racing & Breeding Awards will be held on Wednesday 9 August 2017.
Venue: Molenvliet Family Vineyards
Dress Code: Black Tie – R650 per couple
Enquiries:
Wendy – [email protected]
Jeanette – [email protected]
Please RSVP by 4 August 2017
With regard to accommodation there are a few rooms on the estate available for the 9 August. Please contact Lize-Mari at [email protected] or 021 885-1597.
The nominees for the 2016/17 Cape Breeders Awards.
2YO COLT:
Eyes Wide Open (Highlands)
Sand And Sea (Drakenstein)
2YO FILLY:
Desert Rhythm (Nutfield)
Green Plains (Gary Player)
Lady In Black (WJ Engelbrecht Jnr)
Neptune's Rain (Highlands)
3YO COLT:
African Night Sky (Highlands)
Al Sahem (Al Adiyaat –Zandvliet)
Edict Of Nantes (Klawervlei)
William Longsword (Klawervlei)
3YO FILLY:
Just Sensual (Klawervlei)
Lady Of The House (Highlands)
Orchid Island (Wilgerbosdrift & Mauritzfontein)
SPRINTER:
Bull Valley (Ambiance)
Carry On Alice (Klawervlei)
Trip To Heaven (Highlands)
MIDDLE DISTANCE:
Captain America (Varsfontein)
Legal Eagle (Avontuur)
Marinaresco  (Mauritzfontein)
STAYER:
Captain Splendid (Varsfontein)
Hermoso Mundo (Mauritzfontein)
Krambambuli (La Plaisance)
OLDER MALE:
Captain America (Varsfontein)
Legal Eagle (Avontuur)
Marinaresco (Mauritzfontein)
OLDER FEMALE:
Bela-Bela (Cheveley)
Carry On Alice (Klawervlei)
Nightingale (Wilgerbosdrift & Mauritzfontein)
Nother Russia (Wilgerbosdrift & Mauritzfontein)
BROODMARE OF THE YEAR:
Circle Of Life
Mystic Spring
Pagan Princess
Quickwood
STALLION OF THE YEAR
OUTSTANDING NEW STALLION
BREEDER OF THE YEAR
HORSE OF THE YEAR
OUTSTANDING BREEDER
‹ Previous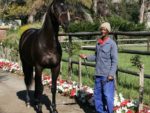 Fond Farewell To A True Horseman