After four wins at Greyville last week, three wins (and five places) from eight rides at Scottsville on Sunday and another winner at Scottsville on Wednesday afternoon, Anthony Delpech currently heads the top of both the KZN as well as the National Jockeys' log with 129 and 194 winners respectively.
Anthony's 129 wins in KZN puts him 8 clear of Anton Marcus on 121 and leaves him firmly on track to secure his third KZN title on the trot. His national tally of 194 winners (as of Wednesday, 27 July), puts him 45 winners clear of nearest log rival Greg Cheyne on 149, and poised to collect his third national Jockey Championship title.
Third Time's A Charm
Anthony won his first national title in the 1998/99 season and his second title came in 2002/03. Although he achieved a staggering 334 winners in 1999, he found himself in Championship contention somewhat unexpectedly this year, so while he is not pushing himself quite as hard this time round, he is hoping to reach the 200 winner mark before the season closes on Sunday, 30 July.
The final run up to the season finale found him in good spirits and the title is all the more satisfying as he'd had no designs on the championship when the season started. "I only really went for it when I found myself in contention. As there were only three months left of the season, I thought I might as well have a go, so it's been great." he enthuses.
What does it mean to have achieved a third national jockeys' title? "Every championship is obviously fantastic, but with jockeys now being retained by specific stables or owners it does make it difficult to really chase the title from the word go. You've got to be at gallops every morning, riding work, looking after the horses and giving feedback and you have to focus on 'your' horses, rather than chasing championships."
"It's my third title now and to be honest, it's fantastic to win it again.  I'm 48 now and might never have another chance.  The sad part is that there's no incentive in it.  If there was an incentive, I'm sure one would get more than just a couple of us going for it, like we did a few years ago when myself, Anton and Gavin all fought it out when there was something to go for. But I've achieved what I really wanted to and it will always be on my CV that I've won another championship," he says proudly.
Invaluable Support
Has it been tough?  "Like I said, it was never my intention to go for the title, but sometimes things just work out. I've had such a great run these last few months, I just destroyed them at the end. It just show you when you have a good run, you can get away from the pack.  I think if I was really hungry to chase it right from the beginning, I could do it, but it takes a lot out of you."  A determined run at the title with all the long days, travel and time away from home is very stressful, but Anthony has a very strong support base and children and lovely wife Candice in particular have been cheering him on and celebrating every win right alongside him.  "I'm very lucky, my family are always behind me. I've pushed hard for three months and it's been exhausting towards the end, but my wife and family are always supporting me. I'm very grateful, you can't do it without them. It's really a big help."
Asked what his highlights were for the season, Nightingale (for his sponsors, Mauritzfontein-Wilgerbosdrift) is singled out as a standout. "It was my first Gr1 since being retained by Mary Slack and is definitely one I will remember from this season. It's also nice to have won the championship in my first season of riding for Mary – it shows we're not doing anything wrong!" Anthony rides Nightingale in Saturday's Gold Bracelet. His other highlight is Bela-Bela, who he labels a special filly and he will be partnering her in her official career swan song in Saturday's Champions Cup.
Anthony has permitted himself the small luxury of not travelling to Johannesburg this week, but he will be riding the Gold Cup double bill on the weekend and has two good books of rides, including MacDuff (Darley Arabian), Bela-Bela (Champions Cup) and Nightingale (Gold Bracelet) on Saturday and Meryl (Thekwini Stakes), Monks Hood (Premier's Champion Stakes), Fortissima (eLan Gold Cup) and So Var (Umkhomasi Stakes) on Sunday.
Following that, he will be off to the UK for the 2017 Dubai Duty Free Shergar Cup and is looking forward to joining his 'Rest Of The World' team mates, Kerrin McEvoy and Keita Tosaki at Ascot on Saturday 12 August 2017. However, he will be back in time for this year's Equus awards to receive his accolade on 15 August.
Fans will be doing the countdown with him and shouting him across the line this weekend and while we can't pop the corks until Anthony's season officially closes with Selvan's Jet in race 10 at 18:15 on Sunday evening, we probably don't celebrate our stars as much as we ought to, so congratulations in advance, Champ!
‹ Previous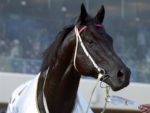 South To North – It Works