The Sporting Post is sad to report that Klawervlei's flagship stallion, Captain Al, has died aged 20.
Captain Al underwent surgery to address laminitis in his hind foot on Tuesday, 11 July 2017.  Despite round the clock care by the DVC team as well as his 'boss', John Koster, Captain Al bid us goodbye on Wednesday, 12 July 2017, a few weeks shy of his 21st birthday.
By Al Mufti out of the Manny Dos Santos' daughter of Complete Warrior, Off To War, Captain Al was bred by Koster Bros and raced in the interests of Messrs A M & G J Dos Santos.  Trained by Vaughan Marshall, he raced over 3 seasons for 17 starts, 10 wins and 3 places with victories including the 1999 Gr3 Matchem Stakes, 1999 Gr1 Cape Argus Guineas, 2000 Gr2 Merchants Stakes and 2000 Gr2 WPOTA Diadem Stakes, before retiring to stud at Klawervlei in Bonnievale in 2001.
Captain Al was an instant success at stud.  It is hard to choose a standout from his legion of Gr1 performing progeny, but special mentions must be made of 2013 Gr1 J&B Met winner, Hill Fifty Four and William Longsword who emulated his sire in winning the Gr1 Cape Guineas.  Other notables include the mighty Captain America, Carry On Alice and sprint champion, Captain Of All who joined his sire at Klawervlei Stud in 2015.  Captain Al was named Equus Champion Sire 2014/15, Cape Stallion of the Year 2014/15, SA Champion Sire of 2yo's seven years running, Dual Equus Outstanding Stallion for 2009 & 2011.
Statistics say so much, but so little.  The real Captain Al story is "a tale of two families and a great horse" and is best told by the man who loved him best, Klawervlei's John Koster.  "We didn't have a gate at the top of our driveway. What we did have were two wolves called debt and overdraft. There was one horse guarding my family from those two wolves and that was Captain Al. Every time those wolves got too close, Captain Al would come through. He put my kids through school. It's amazing what one horse can mean to a family."  Read the rest of the story in our 2016 interview with John here.
Farewell, Captain.  And thank you.
RIP Captain Al (Al Mufti – Off To War).  1996 – 2017.
‹ Previous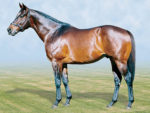 Champion Sire Undergoes Surgery