The National Horseracing Authority confirms that at an inquiry held in Port Elizabeth on 25 July 2017, Trainer Sharon B Kotzen was charged with a contravention of Rule 72.1.45 in that as the Trainer of TRINI'S ORATORIO, she failed to present the correct carded horse to race in Race 1 on 14 July 2017 at Fairview Racecourse.
Trainer Kotzen pleaded guilty to the charge.
The Board found Trainer Kotzen guilty as charged and having considered her plea in mitigation imposed a penalty of R10 000, of which R5 000 is suspended for a period of 12 months on condition that she is not found guilty of a contravention of Rule 72.1.45 over the said period.
Trainer Kotzen has the right of Appeal against the penalty imposed.
‹ Previous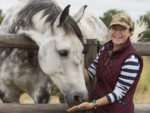 The Meaning Of Mauritzfontein