The 42 year old Gauteng based jockey Sherman Brown rode a winner at Flamingo Park on Monday before jetting out to ride in the 2017 China Equine Cultural Festival at the Yiqi Racecourse in Ordos, Inner Mongolia, which will be held this weekend.
He follows in the footsteps of Kevin Shea, S'manga Khumalo and Gavin Lerena. The CECF is China's largest horseracing event and the only one in that country to be recognised by the International Horseracing Federation.
The Zimbabwe-born Brown has ridden internationally previously but this is his first trip to China. He told us he was looking forward to the 22 hour trip.
‹ Previous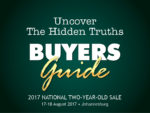 National 2yo Sale – Buyers Guide