Providing more detailed information as to how Stipendiary Stewards reach their decisions is an aspect of reporting currently under review by the National Horseracing Authority.
This emerged following our enquiries to the racing regulator following two runners being scratched after a manual start at Fairview on Friday.
A copy of this editorial was sent to the NHA for comment
"As far as the content of the Stipendiary Stewards reports is concerned, as much content as possible is required in describing any incident or how a particular decision was reached," said NHA Racing Control Executive Arnold Hyde.
He said that Rule 61.6.11, which is the applicable Rule regarding these incidents is clearly worded and in line with similar Rules in other jurisdictions. "Discretion is given to the Stewards which empowers them to apply their minds to each incident,' he added.
He provided the following report on the two runners withdrawn.
THE CAT was declared the joint 5th finisher by the Judge and would have shared the stake money allocated for this position. It was established that it had been advantaged by the front gates opening marginally ahead of the other runners. This is the reason the Stewards declared this gelding a non-runner.
PLACIDO finished unplaced and even though it had been potentially advantaged by the front gates opening ahead of the field, it had not benefitted by this advantage and did not leave the stalls early. The Stipendiary Stewards on duty assessed this incident and in their opinion applied their discretion in declaring  this gelding a non- runner as they were of the opinion that the gelding had gained an advantage at the start. Whether this decision was correct or not is open to debate, it is reasonably probable that another board would have declared this horse to be a runner however, this is always part and parcel of being an official in any sport where discretion is exercised.
‹ Previous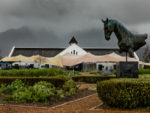 Life's A Journey