The National Horseracing Authority confirms that at an inquiry held in Johannesburg on 6 August 2017 at Turffontein Racecourse, Apprentice Jockey Mpumelelo Mjoka was charged with a contravention of Rule 62.2.3, in that he failed to ride the horse RICH APPROVAL out to the end of Race 9 run at the Flamingo Park Racecourse on 17 July 2017, thus prejudicing his chances of obtaining third place.
Apprentice Jockey Mjoka pleaded guilty to the charge and was found guilty of the charge.
The Board imposed a penalty of a suspension from riding in races for a period of 14 days.
Apprentice Mjoka has the right of appeal against the penalty imposed.
‹ Previous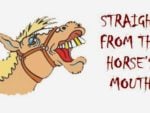 Kenilworth Today – First Timers