Trainer Adam Azzie has told journalist Andrew Bon that Equus Award-winning workrider Francis Semela has to take responsibility for a poor ride on the odds-on favourite Tapenzee in the Vaal opener on Thursday.
"Everything we told him not to do, he did do. We as trainers have to answer to owners. Punters answer to their pockets," said Azzie.
Francis Semela is one of the most experienced workriders in the country. We were unable to obtain a comment from him. The horse finished over 10 lengths off the winner in a Bipot blowout.
Watch the interview and the re-run below and feel free to have your say via our comments facility:
The Stipes reported:
An inquiry will be opened into Workrider F Semela's ride on TAPENZEE.
In view of the performance from TAPENZEE (+F Semela) (10.25 lengths, betting 7/10), the Veterinary Surgeon was requested to examine this gelding.
‹ Previous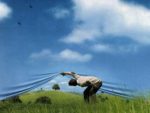 Horse Racing Needs A Sharp New Suit