Hans Ebert, author of Hong Kong's popular RacingB*tch blog, was judged the winner of the inaugural 2017 Drakenstein Stud Farm's Racing Writer of the Year Award for his excellent piece on Hong Kong's thirteen time Champion Jockey, Douglas Whyte. As always, Hans has thought outside the box and added a twist, repurposing the Award with a unique gesture.
Douglas Whyte, currently on a working holiday in Japan, commented, "Reading the blog Hans wrote about me was fulfilling to say the least. It brought back a sense of pride and a flashback of some fantastic memories and achievements that are so easily forgotten in racing! I can't thank him enough for the kind, yet honest words only a friend would mention."
"Hans is never afraid to write what he believes in, and that's on racing worldwide. He's so enthusiastic, passionate and committed to the sport and I believe that's very important in terms of publicising racing. He's one hell of a writer and we go back a long way and if anyone deserves this award it's Hans."
Friendship
Hans met Douglas through Felix Coetzee and the two hit it off straightaway. With regards to winning the Award Hans comments, "It was a nice surprise. It was a very personal piece. I know Douglas very well as a friend and I respect him as a professional, so that piece is really a combination of both. Of being objective enough to be personal, I guess. Because I know Douglas, I didn't interview him for that piece, but the original blog combines music, his background story, my personal views and an interview I did with him where he talks about London News, what Hong Kong has given him, and what he has given Hong Kong."
"Douglas has always been the consummate professional. He was an unknown jockey who was told 'why don't you try your luck in HK?' and he won thirteen consecutive championships. He's a great ambassador for Hong Kong when he rides internationally – and he's been a great ambassador for South Africa because when he was Hong Kong Champion, he was carrying the South African flag all that time. I think it will jolt people's memories about how Douglas crashed onto the Hong Kong scene by winning on London News and remind them of everything he has accomplished in his time here. Not even Joao Moreira is going to beat thirteen consecutive Hong Kong jockey premierships."
Thoughts on Writing
"Horse racing is still not considered part of that bigger world of sports entertainment. Equestrian sports are, but not horse racing because of the gambling albatross. If you say you're in racing, honestly a lot of other industries look down on you and unless you're Sheikh Mohammed or Gai Waterhouse or Frankie Dettori, you're shunned a bit."
"Similarly, if you call somebody a 'racing writer' I think you are pigeon-holing them. The moment you have that 'racing writer' label, people won't give you anything else to do because they think writing about racing is all you know. I'm a writer. I write about racing, music, advertising, food, restaurant reviews, stories, film scripts – that's what I do. So I'm a writer that just happened to write about someone I found interesting in horse racing who had a great story to tell."
Why media is important
"There's racing media and there's mainstream media. The key for horse racing is that you can't only have the racing media, because your customer base isn't going to improve if you're just talking to a captive audience."
"I market horse racing by making it entertaining and to make it entertaining you've got to break out of that very small circle of being only about horse racing. You need to have something where the mainstream media will go, 'that's a great story. We should follow that'. To me it is key that we get mainstream media on our side, which could impact new sponsors and the overall image of racing and I've always said if we had one picture of say Victoria or David Beckham at the races, that would be front page news. It wouldn't be a racing story – the story would be that the Beckhams came to the races. So the more well-known people we can attract that have marquee value names, the more chance we have of generating a mainstream news story."
"My ex-wife is one of those people who always asked me 'why can't there be any racing stories that I would find interesting?' and that has always interested me. I think if you're writing about racing you've got to think how to have that story read by as many people as possible and not just racing people. It's best if this can happen organically."
"It's no secret that Douglas is going to have a book out and I think there should be a book on Douglas (and I would love to have a hand in writing that), just like I think there should be a movie on the life of Jeff Lloyd. But this may not come from the 'racing media'. It might not be commercial enough."
"I think you need people who might not know that much about the sport writing about racing to give it a different twist to the hard core racing guys. You still need the hard core guys – they are form analysts and they're professional at what they do, but I think there should be a new generation of 'racing writers' who are more than racing writers. It's no different to attracting a new breed of racing executive. But you first need to inspire those writers to be interested in horse racing and if they do, they might have a totally different view about how to write about it compared to someone who's been writing about the sport for 20 years."
New Take On An Old Subject
"It's like reading Hunter S Thompson at the Kentucky Derby. It's just a completely new way of writing about a very old subject and people who know who Hunter S Thompson is go wow and it blows your mind. It's not a horse racing story, it's like a Martin Scorsese movie. You've got to get to a point where someone like a Scorsese wants to do a movie about horse racing starring Leonardo di Caprio or Ray Liotta, although I'm sure he'll see the dark side. Or maybe a feel good movie like Joe Pytka did with Let It Ride. Joe was a commercials director and Let It Ride was the first firm he directed. It was a very good movie with horse racing as the background story and unlike a movie based on Seabiscuit or Phar Lap. Let it Ride was a very funny movie with Richard Dreyfuss, Teri Garr and David Johansen from the New York Dolls. Joe Pytka knew guys like Jerry Moss who owned Zenyatta. Jerry Moss was the 'M' in A&M records and Zenyatta was named after an album by Police, so if you were not a racing writer who wrote about Jerry Moss and Zenyatta and Mike Smith and the role Police played in the story and the music executive- Eric Kronfeld- who sold the yearling that became Zenyatta for around US$60,000, it would end up as a mainstream feature story. By the way, Eric made it a point not to ever go watch Zenyatta race!"
"Burt Bacharach is a huge racing fan and he's owned a lot of horses, some with Jerry Moss. He wrote Alfie, What The World Needs Now Is Love – and he owns horses. I think some of the Stones have shares in horses. These celebrities being involved in the sport help elevate the image of horse racing into another sphere. But you need people who think along those lines and I think if you're a 'racing writer' you tend to talk to that same audience. I can feel it on Twitter. There are few people who get that horse racing cannot be one dimensional. You're coming up to 2018 and social media is everywhere – you've got to become multi-dimensional and I think that's the beauty of the HKJC. It's got Happy Wednesday, which I don't think anyone can replicate, and it's got the Charities Trust, so how it's worked things is very different to most other jurisdictions. The HKJC is in the mainstream news with its contributions to the city through its Charities Trust, whereas the racing product is in the racing pages. The whole thing now is how that racing product becomes mainstream news and reaches more people."
Winning The Award
"To me, it's an extremely international award. It's held in South Africa and judged by an American.  The story is about a South African jockey, written by a Hong Kong-based writer who was born in Ceylon – which is probably one of the first places to have horse racing in Asia. It reinforces the strong bond that Hong Kong has had with South African riders especially, going back to the days of Bartie Leisher and spanning the likes of Jeff Lloyd, Basil Marcus, Robbie Fradd, Felix Coetzee, Dougie Whyte, Anthony Delpech, Anton Marcus, etc. right up to now where we've got Karis Teetan and have just had Callan Murray. The award brings the two racing jurisdictions together – and the message goes well beyond those two."
Leaving A Legacy
As part of taking the message further and creating something bigger than just the award itself, Hans has chosen to put the Award's prize money towards a worthy cause. As Douglas Whyte was the subject of the winning article and the competition was about fostering talent and furthering the South African racing industry, Hans he has chosen to create an award of his own for James Maree's work riding programme and name it in honour of Douglas Whyte.
‹ Previous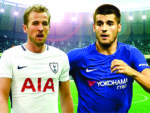 English Premier League