I've never had the privilege of attending a racemeeting at Durbanville but as a student at Stellenbosch in the late 70's, I was always game in trying to boost the kitty for another night at 'Tollies', writes Gold Circle's Andrew Harrison.
Durbanville was my nemesis. I don't think that it had anything to do with the course – we didn't complain about the state of the tracks in those days, we took it as a given that they were up to scratch – but rather our punting prowess.
The racecards for Durbanville (mostly Wednesday's) were always paper thin as there were so few runners, but they fitted nicely into Dostoyevsky's Crime And Punishment as a dry English lecturer expounded on the merits of the 'Rooshian's' prose.
I suppose 'Crime and Punishment' was a fitting epithet – my mate Erno and I seldom collected!
When working as a student in the Argus racing department in the three-month Christmas vacs for a couple of years, Durbanville was closed so it was only Kenilworth or Milnerton.
Chris, "You had better get in quick boy those sandwiches go in a hurry," Stokoe, Mark Small and Tarquin Norval were the Argus scribes. Rupert Langerman (Recondite) kept them on their toes.
Salad days they were – but what fun!
‹ Previous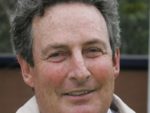 Oner That Got Away