The new and improved Durbanville racecourse gears up for the first graded races of the Cape season on Saturday, 7 October and Kenilworth Racing is going all out to ensure a great day for fans, friends and family.
This year there's something for the foodies too with a bring-and-braai as well with R30,000 up for grabs in the potjiekos competition in partnership with the Boer & Butcher.
There will be braai fires laid on, entertainment for the little ones and there's an open invite for everyone to bring a blanket, bring the family and come and join us for a braai. You are welcome to bring your own supplies if you are the DIY type (please note that alcohol is not allowed, but will be available for purchase), but for more laid back characters, there will be braai packs for sale on course courtesy of our new caterers, High Stakes.
There will be top notch equine talent in the Gr3 World Sports Betting Matchem Stakes and the Gr3 World Sports Betting Diana Stakes for the fillies and our intrepid jockeys will be doing their bit for charity in the annual Jockey Chase, with all of this year's proceeds going to the Cart Horse Protection Association.
Potjiekos

For all our aspirant potjie Masterchefs, entry forms are available from the Boer & Butcher in Durbanville. For those of you who haven't been to this little local gem, they are situated at Shop 1, 27 Main Road and I highly recommend their Saturday morning braais outside the shop front.
Owned by Edu Hanekom, a fourth generation farmer from the Darling/Hopefield area, the Boer & Butcher is an old school local butchery, offering friendly service, good value and meat raised in a healthy, time-honoured way. Their focus on community spirit, customer service and quality meat has proven such a winning combination that they have just opened a second outlet at Stellenbosch Square. They have a great website and Facebook page, but are best experienced in person.
Check them out below:-
Entries for the potjiekos competition cost R100 for a team of up to four people. You will need to purchase the meat for your potjie from the Boer & Butcher and attach your till slip to your entry form. Bring your potjie, your ingredients and your utensils – doors open at 11am. Contestants will have 35 minutes to prep and three hours of cooking time and the results need to be plated and ready for judging by no later than 4pm. There is R30,000 up for grabs with a first prize of R15,000, R10,000 for second place and R5,000 for third with Boer & Butcher vouchers for the top three finishers as well.
If you're not in the mood for cooking, you can always book a table at either the High Stakes restaurant (members only) or the Winning Post and try out the a la carte menu.
There will be jumping castles for the little ones, and the SA vs New Zealand rugby match will be screened.
Jockey dash
Our local jockeys are throwing their support behind the day with their annual jockey dash and in order to level the playing fields with defending champion Aldo Domeyer, this year's event will be run as a relay (teams will be announced in due course). Jockeys can be sponsored at R2,000 per jockey or R4,000 per team and any interested sponsors are kindly asked to please get in touch with the Coastal Jockeys' Association. This year's proceeds are going towards the Cart Horse Protection Association, who do such a sterling job of assisting the working cart horses in and around the Cape Flats.
Cart Horse Protection Association
The Cart Horse Protection Association was established in 1995 with the express mission of improving the life and working conditions of the Cape cart horse. The fact that the majority of working horses seen on roads in and around Cape Town are in good, healthy condition, with jaunty harnesses and safe carts, is thanks to the wonderful CHPA team. Headed up by Penny Lankester, the CHPA operates from their base in Epping and come rain or shine, their vital support services are available 24 hours a day, 7 days a week and 365 days a year. In addition to their veterinary support, they run daily morning clinics, dedicating the rest of their day to essential work such as assisting and educating carthorse owners with farriery, feed and harness repair across the Cape flats.
"We are a one stop shop for the working cart horses", explains Fundraiser Megan White. As most working horses are kept in urban back yards, their stable yard project does regular checks on the condition of local yards and assist with advice, information and even building materials and bedding where necessary. Their Patrol and Call out officer has law enforcement capabilities and responds to complaints, carries out patrols, checks ID plates on the back of carts, checks harnesses, etc. They have started an outreach programme to the Tankwa Karoo to assist with working donkeys and thanks to a generous bequest, also have a Recovery & Rehabilitation Centre in Gordon's Bay to house any confiscated horses or those needing more serious, long-term care. In 2012, they started an adoption programme. It is a challenge, as the majority of horses are only broken to harness, rather than under saddle, and as a lot of the mares they get in are pregnant, there are always young horses needing foster homes, but they have successfully homed close on 100 horses so far. Lastly, they have developed a 12 month dedicated Equine Welfare Practitioner training programme which has already produced its first graduate and there are 4 staff members currently in training. CHPA are in the process of having the programme accredited by CEEPSA.
See some of the work they do below:-
The CHPA are hugely appreciative that the jockeys have chosen to support them this year. "It is really difficult to raise funds and we need all the support we can get," says Megan. "It's great to see the equestrian community helping each other to make a better life for horses that work really hard and don't have much." If anyone would like to find out more about CHPA and the very worthwhile work they do, Karen Paschen will be on site to answer any queries.
‹ Previous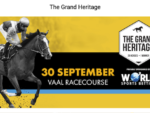 Gearing Up To Be Grand