"That was heart attack stuff by my jockey! I'd really like to take the tactical credit, but in the end it was a helluva good ride by Jarryd – and the yard really needed the boost after a tough six months."
Trainer Duncan McKenzie was chatting to the Sporting Post after Jarryd Penny had steered the 7yo Stratocruiser to a sensational end-to-end win in Friday's R110 000 Founders Trophy at Fairview. Commentator Alistair Cohen blurted 'he's hijacked them!' after an extraordinary race.
"He knew he had to go up and make the pace. I wanted him against the steel and nicely restrained. He is not a horse that quickens, but he stays on really well, and he was fit."
We asked if it was one good ride by Penny or six ordinary rides by his colleagues. "Look, I'm not sure that Jarryd knew how far ahead he was. But he assured me afterwards that he was always well in control and, let's face it, he judged it beautifully," says the charismatic 58 year old, who only recently moved from the barns at Fairview to the outer stables. A virus for the past six months almost stuck him out, he says openly.
"I consulted with some of the country's top trainers for advice. Contrary to popular opinion, there is a lot of camaraderie in this game and the guys were only too happy to help. But I just couldn't shake the virus and eventually I didn't know what to tell my owners. I have been in the open boxes for a week now and I can already feel that the horses have turned. A happy and well horse always does his best, believe me!"
Duncan has 36 boxes in his new yard and he says he has place for more horses. He acknowledged his core of loyal owners and gave particular mention to Hugo Hattingh, the original owner of Stratocruiser.
"Hugo has bigger fish to fry. He has some exciting young horses in his string. He was kind enough to allow us to race Stratocruiser. I'm very thankful to him and all of my supporters. We can't do this without good people."

Duncan says the lifestyle in PE has won him over. "Look at the beauty of the coastline! This is God's country. And I live in the most beautiful environment amongst animals and nature. We don't know how lucky we really are," he adds enthusiastically.
When it comes to knowledge, Duncan has written the horseracing book of life  and is one of the country's most widely and diversely experienced conditioners – with winners from Scottsville to Saudi Arabia to his credit
Duncan's biggest influence to become involved in the Sport Of Kings came via his Mom, who was a Rugg. She worked for one of SA's first lady trainers, Hilda Knaup. All of her seven brothers were jockeys and the family success story dates all the way back to 1934, when his uncle Albert (Allie) Rugg won the July Handicap at the age of 14 on a horse for Jackie Angles called Sun Tor. Sadly Uncle Allie was injured while riding and died a few years later.
After riding work as a youngster, Duncan was set on a career in racing. Illustrious names like Frank Agliotti, Jean Heming , Johnny Nicholson, Nic Claasen, Terry Lowe, Willie Pieters  and Clodagh Shaw number amongst his mentors and employers along the way.
He concedes it's a tough game but he wouldn't want to be doing anything else. "Times are tough and everybody's' under pressure. But where can one get so much excitement, disappointment, thrills, frustration and pleasure in one job? We need good horses and good people. I'm lucky to have been associated with a good number of both," he quips sincerely.
Stratocruiser was bred by Pat Devine and is a son of Jet Master (Rakeen) out of Gilded Star (Golden Thatch).
He wasn't a cheapie with his National Yearling Sale R1,7 million price tag. Originally trained by Glen Kotzen, Stratocruiser has won 6 races with 18 places from 44 starts for stakes of R471 475.


‹ Previous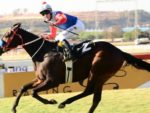 Azzmen Spring Ahead