I don't know whether it's age or whether I just have an overdeveloped sense of cynicism (maybe both?), but I find I'm rarely impressed these days. So imagine my surprise to be invited to public gallops of one of our Cape feature season hopefuls last Saturday.
Most normal people consider weekends as time off to rest, relax and maybe have a lie in (or recover from a hangover, for our younger readers – if there are any!).
While I like my duvet as much as the next person, if there's a promise of seeing some good horses, I will cheerfully get up as early as you like (OK, relatively cheerfully). So Saturday morning saw me hitting the road before sunrise to get to Rosmead Avenue on time for some very special grass gallops.
Glen Kotzen was sending some of his string to stretch their legs at Kenilworth, including last season's promising Gold Standard, last seen out in the Sun Met where he finished 2 ½ lengths behind Whisky Baron.
Having grabbed a pair of trainers on my way out of the house, I had plenty of opportunity to rue my choice as I tracked across the wet Kenilworth turf and the dew soaked straight through to my toes. I squelched my way to the little knot of people gathered alongside the winning post and watched the first pair of Hundreds and League Game put through their paces.
Gold Standard
Next out was the star attraction for the morning, Chrigor Stud's 2016 Selangor Cup winner Gold Standard ridden by Richard Fourie, who galloped from the 1400m mark alongside the speedy two time winner, Quickfire with Lucian Africa in the saddle. By champion sire Trippi out of Olympic Dam (Model Man), Gold Standard racked up 3 wins, 3 places and over R600,000 in earnings from his first 6 starts, prompting Drakenstein Stud to buy into him just before his tilt at the Met. A small set-back saw the colt benched for the rest of the season, but with him fully recovered and back in work – as well as the Cape season just around the corner – the stable decided to use the opportunity of giving him a grass gallop to invite the press to come and take a look.
While I am terrifically fond of my two little geldings at home, I have to say there is just something special about an entire. They always seem to have a little extra gloss to their coats and be possessed of a bit more fire and life than their gelded counterparts. Gold Standard has been left entire and is glowing with good health and energy. He has grown and filled out and looks an absolute picture. The colt gave his companion a few lengths start, easily collaring him up the straight and the two put up some good work – being lightly pressed, but not going flat to the boards.
Richard Fourie, who is the retained rider for Chrigor Stud and always wonderfully approachable and forthcoming, was characteristically direct. "He's a big horse and people have been asking about him, so it's good for people to know how he is doing." He reported that Gold Standard had done the work 'like a gentleman,' adding, "The break has made the world of difference. He's had a very nice winter and didn't have to run on the KZN tracks. His work is very positive and everything is on track, so it's all systems go."
Snapshot
Of course, a gallop is not a guarantee of anything and is merely a snapshot in time, albeit a snapshot showing a wonderfully happy, healthy and above all, sound prospect for the season, but the stable confirmed that Gold Standard's immediate goal will be the Matchem Stakes. While they are hoping for a Cape summer season feature campaign, and all being well, intend following the traditional Green Point Stakes, Queen's Plate, Met route, they cautioned that it will be a question of taking things a day at a time. Which is all one can ask for, really.
Lastly, there was a little extra treat with the last pair for the morning consisting of the very well-bred Sommersonne and Princess Vicky, a daughter of Princess Victoria by Silvano. Both unraced and still finding their feet on the grass, it was nevertheless fun to get to see two such quality fillies up close and personal. Princess Vicky is a small, compact, but racy looking individual, while the chestnut Sommersonne, a halfsister to Dennis Drier charge Sommerlied, is a taller, rangier prospect. They sprinted up the straight and it was difficult to separate the two, which is nice as I now have a host of extra horses to look out for this season. Again there was a chance to see them in the parade ring afterwards, chat to the riders and just generally digest the outing.
Colour me all shades of impressed. It was a progressive, forward thinking and refreshing gesture from Woodhill Racing, particularly when some yards are still refusing first-timer comments. Considering the yard had volunteered the opportunity rather than being pressed for it, had offered more than what was billed and were so open and transparent and happy to chat about their charges made it all the better and it got me thinking.
How The System Works
Racing exists thanks to owners who buy horses and punters who put up their betting rand to provide the turnover which funds stakes, pays salaries and finances the upkeep of our tracks and training centres.
We know the economy is under pressure and that for Joe Bloggs (the man we count on to give us their hard-earned cash), leisure rands are scarce. Therefore customers are becoming far more discerning and have to be persuaded harder than ever to part with their money. The old adage goes that goods are not sold, they are bought, so it is more important than ever for us to maintain good, transparent relationships with our remaining customers if we want them to repay us with their cold, hard cash.
They say to know us is to love us. It is the most basic principle of marketing. Well, it is the most basic principle of life. But how does anyone get to know us when we are still (largely) such a closed shop? Unfortunately this seems to be something our local industry is still grappling to come to terms with.
Poor communication
Half the industry seems paralysed with the suspension of Formgrids. We still have no idea what – if anything – is happening with sectional timing (other than the NHA amending the wording of their rules regarding electronic devices which makes the implementation seem imminent) and while I don't mean to harp on about it (OK, it's my column, so I can), the removal of so-called 'rival' (we prefer the term 'independent') publications in betting outlets seems churlish beyond belief.
It even extends to racing results and replays. While I am eternally grateful for the Tellytrack website and access to the live streaming of races at a very reasonable rate (thank you, thank you, thank you) it is incomprehensible that if I miss the race live, I may need to wait several hours for the replay and race result to be made available on a local racing site, when I can access not only the result, but a choice of replays of our local races on international portals within minutes. And the few broadsheets carrying racing information seem generous in encouraging people to bet, but are a bit short on detail when it comes to the results, often simply listing payouts with numbers rather than horse, jockey and trainer names! That would be like referring to our rugby teams as 'Team A' and 'Team B' in the results pages.
Why so secretive?
There also seems an inexplicable reluctance in some quarters to share what is apparently deemed 'stable secrets'. Consider this – you would not go to the supermarket and be happy to buy unmarked cans of food which could jolly well turn out to be anything. Why then do we expect our punters to do business on that basis? I'm not asking for KFC's secret herbs and spices recipe, but it is possible to say things such as the horse is working well, is recovering from a minor set-back (extra points for naming said set-back), has had its vaccs, has an equipment change, jockey change, etc.
These are statements of fact, which can do no harm and can only aid in fostering a little trust and goodwill. Please note that no-one is asking for an OPINION on how the horse is expected to run (unless you have access to some kind of crystal ball, in which case, fire away). The idea is really rather to give the customer information and allow them to form their own opinion (which has the added benefit of making any decision on their head, rather than incurring unpleasant accusations of 'false information' after the event, helping drive our dwindling customer base even further into obscurity).
The reason this is so important – particularly now when we are all under such pressure is perhaps best illustrated with this little analogy. Grab a plate and throw it on the ground. OK, done. Did it break? Yes. Now say sorry to it. Sorry. Did it go back to the way it was before? No. Now do you understand? Trust doesn't come with a refill. Once it's gone, you are unlikely to get it back. And even if you do, it will never be the same and that's a fact.
But back to my Saturday morning outing. Although it's not the first time (the Bass and Snaith yards in particular are very good about inviting folks to look at their horses), it is certainly the first time this seems to have been done this early in the season, making it particularly, well, nice. So well done to Glen and the team. Also thanks to Kenilworth Racing for giving the go ahead. I know logistics have been extremely difficult with Durbanville out of commission and gestures like this can do nothing but build interest in the horses and season ahead as well as allow one to follow horses with a bit more confidence.
Next time I will remember to wear more sensible shoes.
‹ Previous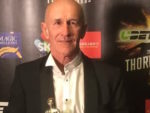 Lloyd Honoured