The National Horseracing Authority has announced that Judy Davies, also known as Judy Brannigan within the Horseracing industry, joined the NHA at the beginning of September on a 6 month contract as the Acting Stud Book Keeper.
Judy was born in Kent in the UK but her parents immigrated to South Africa when she was very young.  She spent her childhood years in South Africa where she matriculated from Hottentots Holland High School in Somerset West in 1977.
Judy has devoted her life to pedigree study and has extensive knowledge of international racing with keen interest in United Kingdom, Ireland, Australia, America, Japan and South Africa.
She has worked with International Stud Books like Weatherbys, Australian Stud Book, Japanese Stud Book, French Stud Book, German Stud Book and American Jockey Club.  Judy will be bringing a wealth of knowledge and experience to the NHA Stud Book Department and we wish her well in her new role of developing and mentoring the existing Stud Book staff
‹ Previous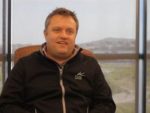 New CEO For CTS