Racing returns to the Kenilworth winter course on Saturday 21 October where the R150 000 Listed Woolavington Handicap heads the programme.
There are 19 horses in the weights.
The 2400m race was dominated last year by Justin Snaith, whose charge Ovidio beat stablemate Francia.
Final declarations are due on Monday 16 October by 11h00.
R150 000 2400m WOOLAVINGTON HANDICAP (Listed)
0
$Francia
(5M)
0
94
A
Justin Snaith
0
$Flash Twice
(3C)
0
81
A
Vaughan Marshall
0
$Sunday Falls
(3G)
0
74
A
Vaughan Marshall
0
$Cape Quarter
(4G)
0
57
A
Vaughan Marshall
15
Mr Winsome
(5G)
64
102
A
Dean Kannemeyer
1
Cape Speed
(5G)
61
96
A
Dean Kannemeyer
11
Master's Eye
(6G)
60
94
A
Justin Snaith
13
Red Peril
(7G)
55.5
85
BA
Bill Prestage
8
Arezzo
(6G)
55
84
A
Justin Snaith
2
Strathdon
(4G)
54
85
A
Justin Snaith
12
Northern Ballet
(5M)
54
82
A
Justin Snaith
5
Three Balloons
(6G)
52.5
79
BA
Candice Bass-Robinson
6
Tiger Tops
(7G)
52
78
BA
Joey Ramsden
16
Speed Of Africa
(4G)
51.5
80
A
Dean Kannemeyer
7
Our Emperor
(4G)
50.5
78
AT
Brett Crawford
3
Mangrove
(4G)
49
75
A
Greg Ennion
17
Benjan
(5G)
49
72
A
Candice Bass-Robinson
14
Sister Soozie

Scratched

(4F)
48
73
A
Andre Nel
9
Paddington
(4G)
47
71
BA
Joey Ramsden
4
Blue Door
(6G)
45.5
65
BA
Eric Sands
10
Silver De Lange

Scratched

(4G)
45
67
BA
Andre Nel
(21)
‹ Previous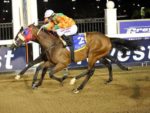 Fairview On Friday 13th