Sun Met winner, Whisky Baron, will be aimed at the Longines International meeting at Sha Tin in Hong Kong on 10 December
Michael Clower writes on www.goldcircle.co.za that Whisky Baron will run in the Challenge Stakes over seven furlongs at Newmarket on Friday week and, if all goes well in that, the Sun Met winner will go in pursuit of the huge money on offer at the Longines International meeting at Sha Tin in Hong Kong on 10 December.
Brett Crawford said on Wednesday: "The nominations for Hong Kong close on the 23rd of this month. We will nominate Whisky Baron and see what happens but as of now it is more about making sure that he is ready for the race."
The two possible races at Sha Tin are the 2 000m Longines Hong Kong Cup worth HK$ 25 million (R43 million) and the Hong Kong Mile which is almost as valuable.
Crawford continued: "Greg Cheyne flies over again for the Challenge Stakes. We very happy with the horse's run in the Shadwell Joel Stakes. The ground was very soft [by South African standards] which was unfortunate but he was still the last horse to come off the bit and then he got squeezed."
Cheyne added: "Being beaten 14 lengths might not sound too good but anyone watching the race would have seen it was a fine run. The track was against him and 500m out, which is where things start to happen at Newmarket, he took me into the race.
"Just under a furlong out the pacemaker rolled on top of me. My horse then got a second bump. He was leg-weary by this stage and it took him clean out of the race. He would never have beaten the winner who is something special– when I was still travelling well he quickened away from me – but all things being equal he could have run fourth."
‹ Previous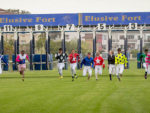 How Much For That Jockey?