Anton Marcus was in superb form at Greyville on Sunday where he booted home the first three winners on the card. He was seen at his best on the Australian-bred Lady Val, who was an unlikely winner of the third.
The highly competitive Marcus is at his lethal best on the Greyville polytrack and he may look back on the meeting and feel that he could have notched five winners, had Lady Luck smiled on him the whole afternoon.
His first two winners – Scrabble for Tony Rivalland and On The Bounce for Charles Laird – were relatively straightforward, but it was in the third, a Maiden Plate for fillies and mares run over the 1400m, where he showed that he is worth a length over most of his colleagues when it comes to swinging a race in his favour.
He rode the well fancied James Goodman-trained Lady Val, who had run a fair race on her debut at Scottsville a month earlier.
As green as the grass on the way to post, Marcus used the dead pre-race minutes to educate Lady Val, showing her the unfamiliar surroundings and cantering her up and down.
In the race Lady Val looked the first runner under pressure as Warren Kennedy grabbed the initiative on the well-tried Alraune, who looked a winner inside the final 150m.
But Marcus wasn't settling for second and he gathered Lady Val late and switched her out before getting her to put her mind on the job and assert herself. Clearly superior to her opposition, Lady Val got the upper hand late and won going away. What a ride!
Goodman waxed lyrical in the post-race interview, suggesting Lady Val was the best filly he had ever trained – and the old man has been around a long time!
"Hell, this Anton Marcus is different class. He is a true professional who thinks all the time. I have ridden – I know what it is like having a green horse under you. It is not easy. But Anton did what he needed to before the race. It made the difference in the end," said an elated Goodman.
Weanlings are James Goodman's 'game' – that's in his own words, but it's difficult to argue that the veteran horseman hasn't got a sharp eye for the right horse.  And at least with weanlings one has a chance to pick them up reasonably – some of the time.
James bought Lady Val when she was offered by Coolmore Stud on the 2015 Gold Coast Weanling Sale. She is out of the Giant's Causeway mare, Took. He got her for A$50 000 (R535 000 today) – her sire stood for A$60,500 in 2014.
She was then offered by Highlands as agent on the 2016 National Yearling Sale, where she was effectively bought back by Kiliminjaro Bloodstock for R450 000.
"That wasn't enough so I paid for her. She is a lovely filly. Very talented. I am glad we have her maiden behind her. She will go 2000m in time. I'm thrilled," he said.
Lady Val races in the interests of Mr & Mrs M W Ridley and Mrs S J De Oliveira.
Lady Val's sire High Chaparral is a six-time Gr1 winning son of Sadler's Wells. He won 10 of his 13 starts and never finished off the board. He was a dual Breeders' Cup Turf champion.
Originally retired to Coolmore Ireland in 2004 to stand alongside his sire and paternal brothers Galileo and Montjeu, High Chaparral stood his first Southern Hemisphere season as a replacement for Montjeu at Windsor Park Stud in New Zealand in 2005. He ended up at Coolmore Australia in 2010 and died in 2014.
‹ Previous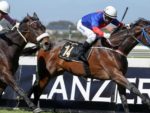 Ready To Run Catalogue Online