Who says fairy tales don't still exist? For living, breathing proof, just pick up the phone to Dorrie Sham, the lucky trainer and part-owner of our recent Heritage second place runner, Classify who set them back the grand total of R5,000. Dorrie kindly made some time in her busy schedule to tell us how it all came about.
"It was actually sort of by luck, more than design," says Dorrie. "We had a lot of the Van Vuuren horses here. We were their trainer in PE. About this time last year, Adriaan said he was cutting back and put a lot of horses on that November dispersal sale. Ashley Parker is our vet and we got chatting about the sale during one of his routine visits and he mentioned that the Van Vuurens had bought a very nice 2yo from him, but that he'd never seen it run. We looked at the catalogue and saw he was listed, but by this time he was an unraced 5yo."
Sometimes the good horses find you. But sometimes, if you do a little homework, you find them.  Classify (Sail From Seattle – Classic Girl) was bred by Ascot Stud.  Originally led through the ring as Lot 171 on the 2013 TBA National 2yo sale, he was knocked down to Misty Meadows for R400,000.  And that is the last record of him until he popped up on the dispersal sale.  The Shams approached Michael Azzie to ask about the big gap and he remembered that the horse did show as a 2yo, but was then sent to the farm and with one thing and another, never came back in, so he'd spent the intervening years between Misty Meadows and Balmoral.
Bargain buy
"He's a huge horse. He's 17'1 and a big, black slab and I don't think he appealed to anyone at the sale. I suppose most wondered why a 5yo would still be a maiden and would assume he must have issues." As they say, assumption is the mother of an awful lot of mistakes and thanks to doing a little homework, the Shams found a gem.
"On what Ashley and Mike said, we decided to take a chance. We were the only bidders and got him for R5,000 and that's how he came to PE," says Dorrie. "We thought there might be an issue at some point," she concedes, "but there's never been an issue."
Being a big, robust sort, Dorrie says he looked like he'd win a race or two, so they offered a share to the Stonebridges. "They've always been such good supporters and whenever we've needed to them to put money down, they have, so we gave them a share in the horse, we gave a share to Mark's brother and we kept the rest."
Classify made his track debut on 4 January this year, winning by a neck. He then had a further 8 starts in PE, winning another four and placing four times. In fact, he has never finished out of the money in his entire career.
"When he won his maiden, which we thought he was good enough to win, he also won the RA bonus, so we thought 'lekker, we're in credit', but he's just gone on from there. He's surprised us all," she admits.
Joburg Raid
The decision to send him to Joburg was a relatively easy one. "He'd won three or four over 1400m here and each time he seemed to do it more easily. I think he broke the class record twice, and he was never under any stress. But because of that, his Merit Rating went very high very quickly. He almost raced himself out of races here because he'd have had to carry 60's and 62's. The season had moved to the polytrack and because he's a huge, big, heavy horse, we weren't keen to run him on the poly, so it was a choice of either leaving him in the box for two months or sending him to Joburg, so we thought of the Heritage. It's basically 1400m and more up his street, so why not have a go?"
The Shams entrusted their charge to the Mike de Kock yard. "Before we decided to travel, we asked Mike a lot of questions and he gave us a lot of advice about travelling a horse from sea level to altitude. Who better to ask about travelling than the master? We planned his campaign around that, so by the time he ran he was fully acclimatised."
Their faith was well rewarded when Classify put in a very creditable performance in the Spring Spree stakes, finishing 4th despite interference and stamping his passport to the Grand Heritage on 30 September.
In the Grand Heritage itself, he put up a terrific run, finishing half a length second to Forest Fox in a fight.
Not too shabby for a R5,000 horse. Not too shabby at all.
"We were ecstatic to be in the no 2 box," beams Dorrie. "It's proof of giving a horse time. If only we could just afford to do it more often."
Future Aspirations
With the logical question being 'where to next', are they considering a tilt at the Summer Cup on 25 November? "We're actually going to look at the (4 November) Charity Mile next," she says firmly. "His two worst runs were over 1600m. One he was badly ridden and one we think we ran him too soon and he put up a bit of a flat race. He's never gone any further than that, so we thought we'd follow the logical steps. The next step is the mile and we'll see how he comes out of that and decide whether we aim for further or not. The Summer Cup would be the ultimate, but we'll have to wait and see."
There is a lovely quote that reads, "Fishing is worth any amount of effort and any amount of expense to people who love it, because in the end you get such a large number of dreams per fish." I think the same applies to horses and to racing.
While it's crazy to contemplate that a R5,000 horse who started his racing career less than a year ago could win the Summer Cup, there are already 5 wins and 5 places to say that he has earned the right to have a go. And as we all know, racing is powered by dreams.
‹ Previous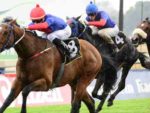 Can't Get Over The Wall