The new-look Durbanville answered all detractors in fine style ahead of its big feature day this coming weekend, by producing an afternoon of high quality 'fair and square' racing on Saturday.
After receiving rave reviews following the unofficial opening on Saturday 23 September, the picturesque country course came under fire from some quarters after a midweek racemeeting.
One trainer suggested that the surface was 'too firm' and there were also indications that the new design and fast top had in fact produced more unfair racing than ever before, benefitting front-runners and promoting cowboy antics by the jockeys.
This was refuted by Kenilworth Racing and the National Horseracing Authority.
Saturday proved, however, that the track will in time prove to be a genuine boon for local racing and a platform for fair results, where draws are not the death sentence they used to be, and where all runners can win – if good enough.
This was amply displayed by the cracking win from a 13 draw over 1200m by the Candice Bass-Robinson trained Johnny Black, who looked to be in trouble late, before being switched in for a run and changing legs like a good horse to win the second going away.
In the fifth race the Brett Crawford trained Gimme One Night was lagging in arrears as Solar Night showed the way, but switched out for a run he produced the acceleration up the middle of the track to register an overdue second victory in the hands of Corne Orffer.
After Zeb's cracking last gasp strike at Durbanville on Wednesday, MJ Byleveld and Vaughan Marshall produced the lucky last goods again. This time it was with recent Oratorio maiden winner Nordic Chant who flew up on the wide outside of the track late to catch the Piet Steyn roughie, In The Jungle.
Vaughan Marshall, who ran seven horses on the day – including two with soundness issues – reported on Sunday morning that all of his charges had all pulled up 'beautifully sound'.
Jockey MJ Byleveld posted on social media that given 'time and rain', Durbanville would be one of the best racecourses in the country!'
We look forward to the Matchem-Diana Stakes feature double on Saturday 7 October. With some big guns lining up, it should be a helluva day's racing.
‹ Previous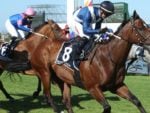 Pour Another Whisky