The Ready-To-Run – the brainchild some 30 years ago of the Mooi River farm's supremo Mick Goss and the late top bloodstock consultant Chris Smith – returns to its spiritual home on October 25 with 65 two year-olds due to come under the hammer.
Chris Smith, a close friend of one of the world's most famous racing personalities of that era Robert Sangster, died suddenly in 2001 and his passing was a huge blow as he had so much more to offer to the sport. He would, however, be happy that the Ready-To-Run remains an important date in the racing calendar.
During the last season  Summerhill  sent out 18 big race winners.  They were Brave Mary, Champagne Haze, Anna Pavlova, Rabada, Purple Diamond, Africa Rising, Witchcraft, Intergalactic, The Elmo Effect, Heaps of Fun, Commanche Brave, Easy Street, Illitshe, Wukkin Up, No Worries, Belle Rose, Purely Atomic and Hong Kong victor, Horse of Fortune.
It's an impressive list and there's every reason to expect that the youngsters on offer next week could also progress to great heights in the racing world.

The catalogue includes the last progeny of Await The Dawn, a son of Giant's Causeway, who sadly passed away in 2014. His six career wins included the Gr 2 Hardwicke Stakes at Royal Ascot.
Several shrewd judges believe Await The Dawn could have made it as a top stallion and they include Dean Bayley, co-owner of Summerhill-bred, Brave Mary, who won a Gr 1 race at Scottsville in May. The filly was later sold to well-known American owner-breeder, Barry Irwin.
A reminder that catering for the sale is being done on a very personal basis – enquiries to Tel: 033 263 1081 or email: [email protected]
Timetable for Wednesday 25 October:
08h00 to 12h30 – view horses in stables
12h30 – view gallops on big screen
13h00 – lunch and fine wines at Hartford House
14h00 – sale commences
‹ Previous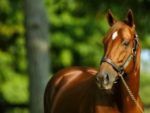 Big Win For Wilgerbosdrift Sire