Frankie Dettori is just one of a few notable absentees from the International team to take on South Africa in the Air Mauritius International Jockeys' Challenge which is being held at Turffontein on Sunday 19 November.
It was reported in August this year that when the legendary Dettori  had learnt that RA CEO Larry Wainstein was contacting potential team members he rang the Racing Association boss and asked: "Is there a seat left on the bus?"
Read 'When Frankie Phoned Larry'
Dettori also took part in last year's competition and rode a double at Turffontein.
In the report carried on the Gold Circle website it was said that the other internationals to have accepted were Hong Kong-based Mauritian Karis Teetan, Brazilian Silvestre de Sousa, British-based Italian Andrea Atzeni and Australian Hugh Bowman.
Together with Dettori, none of these gentlemen are listed in the final team and there has been no explanation tendered by the organisers for their absence.
South Africa will be captained by reigning champion Anthony Delpech and they must be favourites to lift the trophy as the International team, which differs markedly from the pre-publicity frankly (no pun intended!), lacks star appeal.
South African
Anthony Delpech (Capt)
Greg Cheyne
Gavin Lerena
Anton Marcus
S'manga Khumalo
Craig Zackey
Internationals
Pat Smullen (Capt)
Seamie Heffernan
Corey Brown
Martin Dwyer
Thierry Thulliez
PJ McDonald
‹ Previous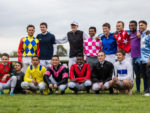 Charity Champions