JOE SOMA and JOHAN JANSE VAN VUUREN
Prefer not to comment.
MATTHEW DE KOCK FOR MIKE DE KOCK
Race 1 – ALSHIBAA (4): Showing good work at home but I am expecting him to come on from this run. In saying that, I would not be surprised to see him finish in the money.
Race 2 – SHUFOOG (11): She seems like a very fast filly and if not too green – I am expecting a good run.
CANDICE DAWSON
Race 1 – DÁRRIVEE (6): He has done everything right thus far and shown nice work at home. He is not fully wound up and could be a bit green. I am hoping he runs a nice race.
GARY ALEXANDER
Race 2 – ANDIAMO (5): A nice filly, well related but might still just need it.
ROBBIE SAGE
Race 2 – PERFECT WORD (10): Will need the experience.
Disclaimer: A Gold Circle information initiative. The views and opinions expressed in this article belong solely to the quoted author and stable represented. None of Gold Circle, the author, trainer or trainer representative, accept liability for any damages that may arise from any reliance placed on the views expressed therein.
‹ Previous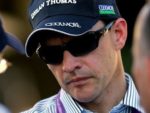 A Gr1 In Both Hemispheres On Saturday?