The National Horseracing Authority confirms that at an inquiry held in Johannesburg on Wednesday 18 October 2017, Jockey Heavalon van der Hoven was charged with a contravention of Rule 62.2.3.
This arose in that he failed to ride the horse SPICE QUEEN out to the end of Race 6 run at the Vaal Racecourse on 12 October 2017, thereby prejudicing his chances of obtaining the outright fourth place, instead of dead-heating for this position.
Jockey van der Hoven pleaded guilty to the charge and was found guilty of the charge.
The Inquiry Board imposed a penalty of a suspension from riding in races for a period of 7 days.
Jockey van der Hoven has the right of appeal against the penalty imposed.
‹ Previous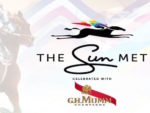 Sun Met Now At WFA