Marketing campaigns, alcohol and live bands work to a point. But horses on extended winning streaks have the real ability to grab the public imagination and attract the crowds.
There is a certain mystical mix of admiration and melodrama associated with sharing in the rollercoaster emotions of the connections, that provides the real-life drama and appeal of watching top horses.
That is the view of multiple former champion jockey Garth Puller, who was reflecting in advance of superstar Winx' bid to make it 21 wins in a row on Saturday. He spoke of his own pressure thirty years ago when a crash diet and a top 3yo gave him the distinction of being aboard the first unbeaten horse to win the Durban July.
"That was the 25th anniversary of the Rothmans sponsorship if I recall. Bush Telegraph had won his first eight starts. The July always enjoys hype – it's just that kind of race. But there was speculation on every street corner as to whether he was good enough to do it. We had record crowds on course and tote turnovers were at new highs. It was all over the mainstream media. Today with social media, I imagine that the pressure and expectation is quadrupled as legend or champion status is dished out by anybody with Facebook or Twitter access!"
Read more – click on the SP Digest image below

‹ Previous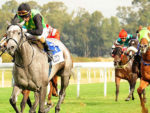 Vaal Abandoned