Greyville Track Manager Kurt Groenewald has rejected suggestions of a draw bias on the polytrack at the city venue.
In a short interview with Gold Circle's Warren Lenferna prior to the racemeeting on Friday evening, Groenewald explained the maintenance processes and said that harrowing the track took a full ten hours to complete.
"We do not do patchwork maintenance. There is no reason for the track not be fair all over. The draw bias is just a perception," he told Lenferna.
This follows Winning Ways host and veteran trainer James Goodman's recent call for the track to be equalised across the surface.
Goodman suggested that the middle inside of the track was dead but that 'misuse' was causing the outside to become a golden strip.
If you missed the Goodman snippet in Short Heads, click here
‹ Previous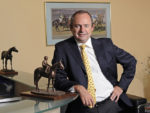 Phumelela Results 2017