One of South African horseracing's new age survivors trained his first winner at Flamingo Park on Monday and was, unlike many shell-shocked punters, reportedly doing cartwheels in the parade ring after the maiden plate.
The 34 year old Johannesburg-born Michael Tshetso Mahiakola, a one-time jockey and Tellytrack employee, and former assistant to veteran Brian Wiid, saddled his first winner – a 50 to 1 shot that blew out the shortest favourite of the day.
There was stunned silence when Lucas Bester kept the Main Aim gelding going to beat the red hot odds-on Pampierstad in the fifth race.
Michael is based at the Vaal and decided to hit the long road to the Diamond City in his two-berth as his charges had been showing 'decent work' on the sand.
Main Flyer had shown nothing in his 8 starts – which included one dismal try in Kimberley.
"You have to think out the box in this game. I only have 9 horses. I can't sit and sulk at the Vaal. I have to make it work for my owners."
Michael's story starts a long time ago. We previously reported on it.
He went to school  just a stone's throw from Turffontein and he often visited Tony Nassif's yard to spend time with the horses. After he matriculated in 2003, he joined the South African Jockeys' Academy in 2004. After the initial 18 months at the academy in Durban, he was sent to Zimbabwe.
He eventually landed up back in Joburg after deciding, following a fall, that race-riding was not his game.
After hitting brick walls in his endeavours to break into racing, he impressed Nico Kritsiotis sufficiently and was given a contract at Tellytrack.
"Michael is nobody's fool and he has a sparkling energy and enthusiasm that is infectious. I could see though that he wanted to work with the horses. I was happy that he made contact with Michel Nairac in Durban and off he went with my encouragement to go and live his dream," says Kritsiotis.
Gold Circle Chief Executive Michel Nairac was also as taken as Kritsiotis and he brought local trainer Mike Miller on board and agreed to pay Mahiakola a stipend while he learnt the ropes.
Miller enjoyed the raw recruit's passion and will to learn and after some valued guidance from Gavin Van Zyl and Herman Brown senior along the way, Michael was ready to take on the world.
He obtained his assistant trainer ticket and was well on his way to carving out a career in one of the toughest professions on earth.
"Mike de Kock has said that you never stop learning in this game – I'm willing to keep on learning. And with great men like Dr Maponya on my side it should be easy to target other businessmen," said Michael at the time.
Mahiakola reflected on a rollercoaster few years and paid tribute to Mike Miller, Brian Wiid, Herman Brown, Michel Nairac, Graeme Hawkins and Nico Kritsiotis –"these guys believed in me when others shut doors", he said proudly.
Nico Kritsiotis, who has played the role of mentor and sounding board to Michael, has supported the young man.
"He talks a big game and is aiming high – but with his drive and passion, the world is his oyster. And with these powerful businessmen behind him and believing in him, who knows where he could go?"
Mike Miller summed it up well at the time: "He's a hard worker and has the gift of the gab, which is half the battle in this game."
Michael is looking for more horses at the Vaal – please contact him on 074 797 45 46.
‹ Previous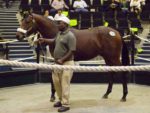 Good News For BSA Clients