The National Horseracing Authority confirms that at an Inquiry held in Durban on 4 October 2017, trainer Paul Gadsby was charged with a contravention of Rule 72.1.28.
This arose in that he was negligent by failing to include the lead bag in the equipment that was supposed to be carried by LUCIUS FOX, when saddling this gelding.  This resulted in Jockey Warren Kennedy, the rider of LUCIUS FOX in Race 2 at Scottsville Racecourse on 24 September 2017, weighing in 3kg below the weight at which he was declared out.  As a result, LUCIUS FOX was disqualified from the race.
Trainer Gadsby pleaded guilty to the charge.
The Inquiry Board, after considering the evidence presented, found Trainer Gadsby guilty and imposed a fine of R10 000.
Mr Gadsby has the right of appeal against the severity of the penalty.
‹ Previous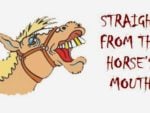 Durbanville Today – First Timers