Trainer Geoff Woodruff, who celebrated his 61st birthday on Wednesday 11 October, is the foremost winning Summer Cup trainer of modern times and he looks to have a strong hand again this year.
His Trippi gelding Deo Juvente, winner of the Premier's Champions Challenge at Turffontein in May this year, topped the first log of likely runners for next month's R2-million Gr1 Gauteng Sansui Summer Cup  to be run over 2000m.
Woodruff, who has won the Summer Cup six times since the race was reintroduced by Phumelela in 1999, including in the last four years, has five candidates on the handicapping panel's list of horses they would pick if the race closed now.
The others are Pagoda, runner-up to Al Sahem in the SA Derby, Master Switch, third to Master Sabina and The Conglomerate in this race last year, talented filly Bi Pot, a good third in the SA Fillies Classic last year and six-time winner Banner Hill.
The latest Sansui Gr1 Summer Cup Log:
| | | | | | |
| --- | --- | --- | --- | --- | --- |
| Log | Age |  Sex | Horse | MR | Trainer |
| 1 | 6 | G | DEO JUVENTE | 115 | Geoff Woodruff |
| 2 | 4 | G | MATADOR MAN | 112 | Sean Tarry |
| 3 | 5 | M | NOTHER RUSSIA | 108 |  Mike de Kock |
| 4 | 5 | M | FORT EMBER | 105 |  Paul Peter |
| 5 | 5 | H | BRAZUCA (AUS) | 107 | J A Janse van Vuuren |
| 6 | 4 | F | ORCHID ISLAND | 101 | Mike de Kock |
| 7 |  4 | F | WIND CHILL | 101 | Joe Soma |
| 8 | 4 | C | CROWD PLEASER | 100 | J A Janse van Vuuren |
| 9 | 5 | G | HERMOSO MUNDO | 100 | Weiho Marwing |
| 10 | 4 | C | TILBURY FORT | 97 |  Sean Tarry |
| 11 | 4 | G | GLIDER PILOT | 97 | Tyrone Zackey |
| 12 | 5 | H | NEW PREDATOR (AUS) | 113 | J A Janse van Vuuren |
| 13 | 6 | G | FRENCH NAVY | 108 | Sean Tarry |
| 14 | 8 | G | MASTER SABINA | 109 | Joe Soma |
| 15 | 4 | G | PAGODA | 99 | Geoff Woodruff |
| 16 | 5 | M | WITCHCRAFT | 101 | Sean Tarry |
| 17 | 6 | G | MASTER SWITCH | 100 | Geoff Woodruff |
| 18 | 4 | F | BI POT | 98 | Geoff Woodruff |
| 19 | 5 | M | GIRL ON THE RUN | 98 | J A Janse van Vuuren |
| 20 | 5 | G | BANNER HILL | 99 | Geoff Woodruff |
‹ Previous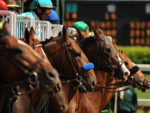 Breaking Them In