Horseracing in the Eastern Cape is probably stronger than it has ever been and is followed with great interest and passion by a cross-section of punters.
Sadly their biggest race, the Algoa Cup, like many features across the country, has been downgraded and with a stake of R350 000, must be the richest Listed race in South Africa.
Often won by away horses – Brett Crawford took it last year with Nebula – Jacques Strydom was the last local to lift the prized trophy, when Surfin' USA rocketed home in 2009.
On a sentimental note, and with television and the internet affording us the opportunity these days of watching the racing live and studying the form with the benefit of replays, Eastern Cape racing has come a long way since 4 January 1986.
That was the launch of live radio commentaries from Fairview – on the four jackpot races only, nogal!
Bumpy Schoeman's voice was beamed on the newly formed Radio Algoa airwaves, which started broadcasting on 1 January 1986.
Today the racing commentaries have – sadly –  long gone silent and the station has been jazzed up and goes by the name of the catchier, Algoa FM. And Tellytrack now hogs our every waking moment.
The next big meet at Fairview will be the the R350 000 Listed Algoa Cup, which will be run on Sunday 29 October.
See the 30 entries below – another strong visiting contingent – including the title defending Nebula – looks to keep the locals hungry. Declarations are due by 10h00 on Monday 23 October.
R350 000 2000m (Turf) BETTING WORLD ALGOA CUP (Listed)
15
Alghadeer
Grant Paddock
103
18
All The Bids
Yvette Bremner
72
6
Ben-hur
Candice Bass-Robinson
77
23
Dragon Flame
Gavin Smith
76
29
En Gee Oh
Gavin Smith
80
4
Eternal Jet
Yvette Bremner
91
11
Gimme The Stars
Yvette Bremner
89
16
Jeremy
Yvette Bremner
70
13
Kingston Mines (GB)
Alan Greeff
93
30
Laws Of Succession
Yvette Bremner
92
24
Loadshedder
Andre Nel
84
20
Master 'n Commander
Tara Laing
93
3
Master's Eye
Justin Snaith
94
26
Masterly
Justin Snaith
91
27
Nebula
Brett Crawford
101
14
New Fort
Glen Kotzen
80
8
Ollivander
Candice Bass-Robinson
83
10
One Away
Corne Spies
70
28
Our Emperor
Brett Crawford
78
5
Platinum Prince
Justin Snaith
94
9
Road To Indy
Tara Laing
91
25
Scent
Alan Greeff
90
21
Secret Warning
Gavin Smith
82
12
Star Chestnut
Justin Snaith
93
19
Stonehenge
Sean Tarry
92
2
Stormy Eclipse
Tara Laing
97
7
Story Of My Life
Gavin Smith
84
22
Strathdon
Justin Snaith
85
1
The Great One (NZ)
Brett Crawford
91
17
True Master
Justin Snaith
100
(30)
‹ Previous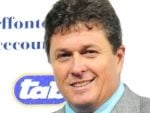 Brett's Baron Blow