Dreams of a South African runner ever lining up to compete for a R61 million first cheque still seem unimaginable on the eve of the inaugural running of the world's richest race on turf at Royal Randwick on Saturday.
Africa is unsurprisingly missing from the A$10 million The Everest's European, Asian and American demographic, but the news emerging from  Adrian Todd, Head of the Horse Import/Export Task Team (HIETT), earlier this week that we could be shipping bloodstock directly to the EU by as early as December 2018, will be a flicker of hope that we could well one day be competing for these telephone number sums.
Crazy as it may sound, a South African sprinter hoping to take on the world's best over 1200m at Randwick would have to travel to Mauritius, where they would spend 90 days in quarantine, and then into Europe for a further 60 days under lock and key. The 'raid' into Australia would then be launched from the Northern Hemisphere.
The cost of getting to Australia via Europe is estimated by ane expert to be around R700 000 – small money considering the massive cheque at the end of the rainbow at Sydney's Spring Carnival showpiece.
But the risks of the project don't end there.
Click on the image below to read more

‹ Previous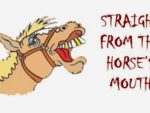 Vaal Today – De Kock Runner Fancied