Hot on the heels of notching the first winner for Eightfold Path on 9 September 2017, Brigtnumberten posted his second win in as many weeks, for trainer Roy Magner and Hartley SA's Hui Guo. The promising colt now has 2 wins and a place from 7 starts.
Peter Gibson is the nominated representative, so I gave him a call to find out more about Brigtnumberten, Eightfold Path and Hartley SA (Pty) Ltd.
Mr Guo is a businessman from the Chinese mainland and his involvement with South African racing stems back to a trade mission Peter carried out alongside Deputy President Kgalema Motlanthe. "One of the meetings I set up was with the China Horse Industry Association and we invited them to come and inspect South Africa on a protocol basis, but also to develop a relationship on an official basis."
"In 2012, Racing South Africa hosted an official delegation of 6 people from the China Horse Association and included in the group was Mr Guo. By the end of the trip, Mr Guo said he loved the country and asked us to buy him a horse. We purchased Tipo Tinto in training and he won 3 for Guo in his now distinctive blue and red colours."
Eightfold Path
Shortly after Mr Guo started his foray into South African racing, Eightfold Path came onto the market. Bred by the Niarchos family's Flaxman Holdings, Eightfold Path is by Giant's Causeway and is the first foal out of French Champion race filly, Divine Proportions. He campaigned in the Niarchos colours in France under Pascal Bary.
A precocious juvenile, Eightfold Path won his first race over 1200m in July of his 2yo career. He was then tried in the 7 furlong Gr3 Prix la Rochette, finishing 3rd and only 2 lengths off subsequent Champion Two Year Old Colt in France and now successful stud stallion, Siyouni. He closed out his 2yo career by winning the Prix Eclipse at Maison Lafitte. Eightfold Path was one of Bary's leading hopes for the 2010 Classic season, before being sidelined by injury during the build up to the French 2000 Guineas. As a 4 and 5 year old, he won 2, including the Grand Handicap de Deauville over 1600m before being shipped to South Africa, where he had a few starts under the care of Mike de Kock. However, Eightfold Path was already focussing on other things than racing, so they decided to sell him as a stallion prospect.
"Robin Bruss approached me and we bought him as a syndicate," continues Peter. "At the time, Await The Dawn and Eightfold Path were the only two Giant's Causeways to come into the country, which is quite surprising," he muses.
Stud Career
Standing the stallion in KZN came about because by that stage Mr Guo had acquired a few mares who were all based in KZN. "The whole deal was put together over one of the KZN stallion days," recalls Peter. "We asked Scott Bros whether they were interested in standing him and they said yes and put together a number of others. Mr Guo has retained 64% and the rest is syndicated across various studs in KZN. He's averaged around 55 mares per year from 2013. His first crop are now 3yo's and based on the quality of foals he produced in his first season, we've continually upgraded the quality of mares we've sent to him, so his better foals have come from his subsequent covering seasons."
Asked to describe Eightfold Path, Peter says, "He is a short, powerful horse with a lovely shoulder and a good hindquarter. He stands over a lot of ground for a small horse and interestingly, he is throwing size – most of his foals are bigger than he is, but Eightfold Path was a first foal," notes Peter. "He had this beautiful big action on the track. His female line is outstanding and his dam was an absolute freak. She won 10 out of 11 starts, of which 5 were Gr1's and she beat the colts." Apart from Divine Proportions, her dam, Myth To Reality (Sadler's Wells) produced multiple Gr1 winner and now sire, Whipper and the family goes all the way back to Shirley Heights and Pentire. "It's a beautiful family," emphasises Peter. "No matter what he leaves behind, his females will leave their mark."
Off The Mark
Given Eightfold Path's precociousness as a racehorse, it has been a long wait for his first winner. "It did surprise us a little," Peter admits, "but after Brigtnumberten won, there was another winner the following week (Esploratore – trained by Alec Laird) and it's been great to see Brigtnumberten now win two on the trot."
"If one looks at Giant's Causeway, his best nick has been with Seeking The Gold mares, so we've deliberately gone out and looked for daughters of Windrush for him and Esploratore is out of a Windrush mare. Brigtnumberten is out of a Joshua Dancer mare, so you've got Danzig onto Storm Cat. But he's had a good spread and also has some lovely foals out of Jet Master and Western Winter mares, so time will tell."
Eightfold Path stands at Scott Bros for a fee of R10k. "He always has been R10k which we feel is fair," says Peter. "However, in a market where everyone is discounting, we're certainly negotiable."
Brigtnumberten
Mr Guo's company in China is called Bright Industrial Trading Co, which is what the horses are named after in numerical order. "We avoided one or two, such as 9 which is not considered very lucky. We've had Brigtnumbertwo, three and four. Brigtnumberfour is a listed placed filly and a full sister to Noble Heir (Kahal) who won the Computaform Sprint and is now at stud in Australia. Brigtnumberfour is now at stud and has just produced a filly by Bold Silvano. Brigtnumberfive is a 5yo Kahal mare out of the 4 time winning Saumarez mare, Star Role. She is talented, but somewhat injury prone. Brigtnumbersix is by Visionaire and is with Lucky Houdalakis and has won 2 from 5 starts. Brigtnumberseven has retired. Brigtnumbereight is an unraced Eightfold Path filly, the first foal of Listed winning Windrush mare, Glittering Temple, that is showing promise. There was no number nine and then of course there's Brigtnumberten, which has just won two in a row."
Brightnumberten is the first foal out of a Joshua Dancer mare, Summer Dew. "Although he's neat and well-balanced, he was small, so we decided to race him ourselves and protect the dam, who is just starting her broodmare career. Roy has always been bullish about the horse, even though he's not the biggest. He's always shown ability, but as Roy said in his last interview, he's quite feisty, so it took a little time for him to mature and for the stable to get to know him, but I think Roy's team has handled him really well, given him enough time and placed him well."
"I was quite impressed with his second win in particular and how he handled the loose horse and quickened well. Hopefully he can continue to progress and get the extra furlong, but Roy will pick his races as and when they come up. And we need to see what the handicapper does," he adds.
Name Change
Mr Guo has subsequently changed his company name and now runs his operations as Hartley SA (Pty) Ltd. "All the new horses will be named with the prefix Hartley," laughs Peter. "Hartleyone (an Eightfold Path 3yo half brother to Brigtnumbersix, from the immediate family of Kundalini) is with Alec Laird. He is a big, rangy horse, so we'll wait and see what he does."
"I'm interested in how Eightfold Path's later maturing progeny will perform. Admittedly he didn't get the best mares in his first season, but he still got one or two that look like they have the right ingredients and it will be interesting to see how they come out as later horses."
Expanding interests
It is always encouraging to see foreign interest and investment in our local industry and Peter reports that Mr Guo is enjoying his South African venture. "He's now got 68 horses under his care dotted around the country and he's using a number of different stallions – not just Natal based ones. He's also got horses in training in most centres now. He loves South Africa and has brought his family out on numerous occasions. He's got a real feel for SA and has bought into the idea that this is an area with enormous scope to increase values once we solve our export issues."
"Last year, Hartley SA embarked on a strategy of upgrading its bloodlines with a view to the longer term breeding interests it is developing. We bought a nice selection of horses from the 2016 National Yearling Sale including the recent debutant winner, Salimah (Trippi), who makes her way to Cape Town for the coming season. Others include promising types like What A Player (What A Winter) with Alan Greeff in Port Elizabeth, Seattle Spark (Sail From Seattle) and Aldo's Chase (Oratorio) with Dennis Drier in Durban and Pride Of Place (Black Minnaloushe) with Roy Magner in Johannesburg. We also invested in a good number of broodmares at various sales around the country and bought some nice individuals at this year's yearling sales."
Shared Vision
"With the closure of Horseracing South Africa (Pty) Ltd, I now work for industry on a part-time basis, so am able to look after Hartley SA's interests in my private time. At the end of the day, we're all aligned in the same objective, which is to access foreign markets. Guo is doing a lot of work in places like China, Singapore and Korea on our behalf – he shares the same vision as the rest of us and it's nice to have a foreign investor looking at similar objectives."
"For example, we shipped Guo's top colt, Welsh Emperor (runner-up in the EC Derby), out of the country with the flexible view of either going to Singapore for better prize money or taking our chances at a sale and seeing how the market responded to him." They offered him at Tattersalls July sale and he was knocked down for 78,000 gns.
"We were pretty happy with the return in Rand value, the only risk being whether one is prepared to commit 4 months and R400k to get a horse there. He was bought by a Saudi contingent to race in the UAE and it shows that a horse out of PE with a nice profile and sound track record is desirable to the foreign market. Had he been year younger, we might have got double."
Also, like a lot of the new Asian investors in Australia, Mr Guo has an Australian division as well, but it's purely trade and based on pin hooking. "He's just started that, supported by James Bester, the South African born bloodstock agent who also does most of Sabine Plattner's work," explains Peter. "I introduced Mr Guo to him and he does a lot of consultancy work for him. South Africans stick together wherever we are in the world."
‹ Previous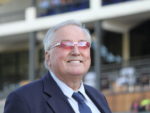 Racing The Envy Of Other Codes