JOHAN JANSE VAN VUUREN, STUART PETTIGREW and ALEC LAIRD
Prefer not to comment.
CLINTON BINDA
Race 1 – BOARDWALK GANGSTER (11): Could not be contacted but Clinton Binda says that his standard comments for his first timers are that they will need the run. All of his first timers need their first run.
PAUL PETER
Could not be contacted.
BRIAN WIID
Race 2 – NATIONAL AIM (12): Will need a run to tighten up.
MATTHEW DE KOCK FOR MIKE DE KOCK
Race 2 – YAKEEN (14): Has been pleasing us at home but is bred for further than this. I would not be surprised to see this horse finishing in the money.
STEPHEN MOFFATT
Could not be contacted for comment.
Disclaimer: A Gold Circle information initiative. The views and opinions expressed in this article belong solely to the quoted author and stable represented. None of Gold Circle, the author, trainer or trainer representative, accept liability for any damages that may arise from any reliance placed on the views expressed therein.
‹ Previous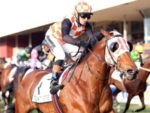 KZN Breeders Awards Nominees