A Triple Crown winner is pretty special by anyone's standards. The American Triple Crown, made up of the Kentucky Derby, Preakness Stakes and Belmont Stakes has only been won 12 times, starting with Sir Barton in 1919 and culminating with American Pharoah's triumph in 2015.
The English Triple Crown consists of the 2000 Guineas (1 mile at Newmarket), the Epsom Derby (1 mile 4 furlongs at Epsom Downs) and the St Leger (1 mile 6 furlongs and 132 yards at Doncaster) and has been won fifteen times starting with West Australia in 1853. Nijinsky was the last to achieve the feat in 1970 with very few horses even attempting all three in recent history.
The South African Triple Crown comprises our 1600m Gauteng Guineas (occasionally including the Cape Guineas as an alternate), the 1800m SA Classic and the 2450m SA Derby and has only been won three times – first and perhaps most brilliantly by Horse Chestnut in 1999, followed by Louis The King in 2014 and in 2016 came Abashiri, who made his long-awaited return to the track this past weekend.
With Horse Chestnut picking the celestial grass in the great paddock in the sky and Abashiri being a gelding, Louis The King is the only Triple Crown winner at stud in South Africa. With his unassuming back story, his bargain basement price, his gentleman trainer, his sentimental name, the legion of doubters who said he'd never do it and the triumphant way he did it anyway, Louis shot a bright bolt of colour across our dreary 2014 winter skyline and his story is the stuff dreams are made of.
A little luck
Louis' story is one of a series of events in which things could so easily have worked out differently, but due to chance or fate or whatever Grand Designer gets to decide, things all turned out the way they should. Of course, as someone once wrote, Luck has sides and if one believes in the laws of physics, for every action there is an equal and opposite reaction. It's not something we like to contemplate too hard, but on the opposite side of good luck is an ever present opposing force that constantly needs to be kept at bay and ultimately balanced out.
There is a racing adage that it is better to be lucky than good, although one needs to be good if luck is to be turned into something meaningful. For a long time Louis danced on the right side of luck. From the millions of possible permutations, he won the throw of the genetic dice from his two parents, he was in the right place at the right time to find his way into the right hands at that KZN sale and had his career astutely managed to bring out his very best. However, luck has sides…. Having dazzled in his Triple Crown campaign, he was nearly brought down in the 2014 Durban July, resulting in a joint strain which needed careful management for the remainder of his career. He showed that his talent was paired with grit to return to the track the following season and finish 3rd in the Charity Mile as well as a spectacular win in the Summer Cup. However, his greatest performance may have been in defeat when he went down fighting by a ¾ length to Futura in the 2015 L'Ormarins Queen's Plate.
With the Woodruff yard battling a virus, Louis' performance in the Horse Chestnut Stakes and the Presidents Champions Challenge lacked his usual sparkle and in May they made the decision to operate and remove one of Louis' testicles, which had twisted and was causing discomfort. The team were just gearing up for a second KZN campaign, when Louis fractured a sesamoid at morning work. Despite his previous courageous comeback from injury, the team were taking no chances with their star. With 7 wins from 15 starts, winning from 1400 – 2450m, he was immediately retired from racing.
Stud career
While it seems a rather long time since Louis' retirement to his first crop of foals, his sesamoid injury required careful rest and rehabilitation – not always an easy feat for an entire in full training – but in addition to his ability on the track, Louis is blessed with a steady, friendly temperament as well as a caring and capable support network and took the box rest in his stride. Accordingly it was not until December 2015 that he transferred to Terry and Annabel Andrews' Sorrento Stud in the Western Cape and Louis served his first book of mares in 2016.
Louis may not have had an army the way Abashiri did during his campaign, but he did merit his own hashtag and as our first Triple Crown hero since Horse Chestnut, earned himself a well-deserved fan club.
While he is a well-made, well-balanced horse, Louis is not noticeably out of the ordinary in any particular department as far as physical attributes go. The joy of Louis is that he is, to quote Geoff Woodruff, 'just Louis' and the magic lies on the inside, but there's a rare energy about him that reassures you it is there in spades. Even setting aside his track exploits, with his cheerful disposition and endearingly unruly mane and fluffy forelock, it is impossible not to warm to him and having been lucky enough to 'meet' him both in training as well as at visits to Sorrento, I'm a paid-up member of the Louis fan club and have been looking forward to his first foals almost as much as his connections.
Will he or won't he?
While Secretariat was one of the most spectacular and best loved Triple Crown Champions of the modern era, there are many who feel he did not live up to his reputation in the breeding shed (although his influence as a broodmare sire is undisputed).
So what about Louis? Despite lacking the same support as some of his neighbours, Black Minnaloushe has nevertheless produced a sprint champion as well as stayers and in Louis he produced a horse that could carry his speed over the classic SA Derby distance. As John Slade said about Black Minnaloushe back in 2014, "One can take a chance with modest horses and hope to get lucky, and well-bred horses may throw a lot of average types, but they will produce some spectacular horses because the blood is there." One doesn't get much more spectacular than a Triple Crown.
Louis' first foal arrived on 1 August 2017 and is a filly out of the 5yo Hope Downs (Fort Wood – Hancock News). Not only was she delivered at Louis' Sorrento Stud home, but Hope Downs belongs to Louis' owner, Tiaan van der Vyfer. And once she'd landed, the rest have been arriving in a steady stream. I couldn't wait to have a look.
Warm welcome
Sorrento is a short, but scenic drive through the Platteland. In the same way that anyone wanting to make a small fortune should start with a large one and buy horses, the same can be said of a farm, but every time I turn up the driveway, I marvel at how much time, effort and love has been lavished at Sorrento. The elevation on the slopes of the hill and the exquisite view across to Table Mountain sets it off beautifully.
One is generally greeted by a pack of noisy dogs and then Terry and Annabel, a warming cup of coffee, a generous tub of biscuits and of course, the horses.
All foals are beautiful so it's difficult to be objective about four-legged balls of gorgeousness, but even to my inexpert eye, Louis has 'done good'.
He served a book of just over 30 mares last season of which 12 have arrived at Sorrento. In a gamble that could have gone either way, a large proportion of his visitors were maiden mares. Whether Louis' genetic prowess will be passed on is still to be seen, but it seems the luck that followed him to the track has stayed with him in the breeding shed.
Louis has stamped many of his foals with his plain bay colouring, although there have been a few chestnuts – and one in particular who would give Miss Frankel a run for her money in the flash department. Louis' first crop have been blessed with correct limbs, good bone and his steady, curious temperament and rather surprisingly, size. However, in addition to height, his foals are also balanced with substance. It is a good start.
There is an old breeder's adage that one should look at a horse at 'three days, three weeks, three months and three years'. Having passed the first two milestones, I will look forward to going back in three months and beyond.
Much like his racing career, there will be debate and discussion over whether Louis will make it at stud and whether he will ever be able to reproduce, or possibly better himself on the track. But racehorses are not made on internet forums or even newspaper articles. Their mettle has to be tested on the track, as the Bible says 'like gold in the furnace'. As he did back in 2014, Louis left the debaters to their debate and focussed on the job at hand.
They say a stallion's pedigree tells you what they could be, their performance tells you what they should be and their progeny tells you what they are. Louis' pedigree told us what he could be, he has the Triple Crown silverware confirming what he should be and now we wait for his progeny to show us what he is.
‹ Previous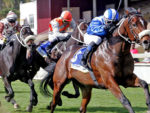 Gold Circle Talks To Members