Sun Met star Whisky Baron's Hong Kong campaign has been abandoned and the magnificent son of Manhattan Rain will now be aimed at the Dubai World Cup Carnival.
Ridgemont spokesman Craig Carey told the Sporting Post on Monday that the Kieswetter family's much-loved Australian-bred gelding had not run in the Godolphin Stud And Stable Staff Awards Challenge Stakes at Newmarket last Friday due to swelling from a twisted joint.
"We are really pleased with his recovery and the swelling has gone down nicely. The x-rays and scans have thankfully revealed that all he needs now is rest. We are not going to push him though. We will give Hong Kong a miss, and will go slowly with him. The intention is to rather build him up to a Dubai campaign," said Carey.
Trainer Brett Crawford and jockey Greg Cheyne  had both flown to England for the 1400m Gr2 race on Friday but accepted the disappointment in a professional spirit.
Whisky Baron had opened his international campaign in the Gr2 Shadwell Joel Stakes at the end of September and had been expected to up his game dramatically at his second start.
Like the superstar that he is, Whisky Baron will be relaxing at an equine spa for the next ten days and the Ridgemont team will then sit down with Brett Crawford to plan the next phase of his world tour.
‹ Previous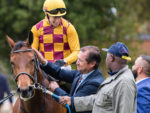 When Opportunity Knocks