Whisky Baron is injured and the Sun Met winner will miss his planned Hong Kong preliminary in the Godolphin Stud And Stable Staff Awards Challenge Stakes at Newmarket on Friday.
Michael Clower writes on www.goldcircle.co.za that the setback is a bitter blow to owners Craig and Ross Kieswetter as well as to Brett Crawford and Greg Cheyne who had both flown to England for the seven furlong Group 2.
Barry Donnelly, Crawford's assistant, said yesterday: "Whisky Baron cantered on Monday and was to gallop the following day but he hurt his hind fetlock and Brett had to pull him out of the race.
"The vets were at the stables to see him this morning (Thursday). I'm not sure how serious an injury it is, or what is the long-term prognosis, but obviously it is a bit of a downer."
There was no indication as to how this will impact on Whisky Baron's pursuit of the huge money on offer at the Longines International meeting at Sha Tin in Hong Kong on 10 December.
The nominations for Hong Kong close on 23 October.
The two possible races at Sha Tin are the 2 000m Longines Hong Kong Cup worth HK$ 25 million (R43 million) and the Hong Kong Mile which is almost as valuable.
‹ Previous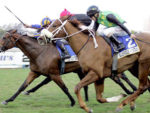 Shrewd Snaith Buy Wins Again