Top Winning Form-sponsored jockey Muzi Yeni has paid a compliment to the Stipendiary Stewards on duty at the Vaal on Tuesday, suggesting that there is so much negativity in the game that the media needed to be alerted to incidents where racing gets the small things right.
Yeni spoke to the Sporting Post following the Vaal meeting that saw him gain a boardroom victory in the third race after his mount had suffered interference.
"It's not about being chuffed that I got the upper-hand in an objection. Nobody wants to see race results decided in the Stipes boardroom. But it was just so great to feel that the Stipes were on top of things and taking the lead. I got back to the jockey room and had already decided I needed to object. But the Stipes told me that they had things under control. That gives a jockey a lot of confidence and no matter the end decision, it would be nice to see the onus not always placed on the jockey or the winning connections."
He added that he believed that public confidence hinged on the way that they perceived that the game was being policed and proactivity by the Stipes was heartening.
The Sporting Post recently clarified with the National Horseracing Authority that it 'didn't matter' who laid the objection. This may well be legally accurate and of no impact on the end result, but surely, as the observing authority of every race with the benefit of instant replays, the Stipes should be the instigators of the majority of objections?
From the official Stipes Report:
The Stipes reported that In the concluding stages, VACQUERO (M Yeni), became unbalanced when bumped out on a number of occasions by ELEVATED (C Murray), which was hanging out. 
A race review was called into this incident by a member of the Stipendiary Board, this was followed by him lodging an Objection on behalf of the 2nd placed horse VACQUERO (M Yeni) against the first placed horse ELEVATED (C Murray) on the grounds of interference in the concluding stages. 
The Objection Board, after giving regard to the evidence put forward by the respective parties and viewing the patrol films of the race, was of the opinion that the result had been affected by this incident and that VANQUERO would have finished ahead of ELEVATED had this incident not occurred and therefore upheld the objection and amended the Judges result.
‹ Previous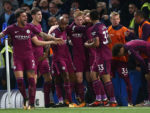 English Premier League