Avontuur's international stakes winner producing sire Oratorio was given the green light this week to commence full coverings after a bout of laminitis saw him out of action in September.
Oratorio commenced covering mares for shareholders only late last month after making a dramatic recovery from his illness.
A pleased Avontuur GM Pippa Mickleburgh said that she was very excited to have written to the Oratorio shareholders on Tuesday to inform them of the great news.
"It has been a trying time but the big boy showed that it will take more than a bit of laminitis to get him down. We are playing catch up now, but he is a true professional. I must again say a huge word of thanks to our Vet Martin Denkhaus, with the support of Baker McVeigh, and farrier Robbie Miller, who have been wonderful. I have already gone on record saying that their care and attention made all the difference to get O back to health so quickly."
Oratorio has two runners in Saturday's Guineas 'trial', the Gr2 Selangor Cup at Kenilworth.
The very smart Joey Ramsden-trained Ancestry, probably more of a Derby horse ultimately, gets the blinkers and Anton Marcus, while Vaughan Marshall's Nordic Chant has won 2 of his 7 starts and is bred on staying lines.
‹ Previous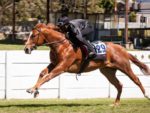 Ready To Rumble