Saturday sees the running of the Gr1 Cape Fillies Guineas – a breeding ground of great families.
The Cape Fillies Guineas honour roll includes the great mare, Party Time, whose great-great granddaughter, In The Fast Lane, won the same classic in 2013, Petrava , dam of 2000 Fillies Guineas winner, Hoeberg, as well as champion sire, Jallad, and fellow Gr1 producers Olympic Duel (dam of Gr1 Daily News 2000 winner, Flying Duel), Shadow Dancing (dam of dual Gr1 winner Thunder Dance), Festive Season (dam of Gr1 Gold Cup heroine, Festive Forever, dam of champion, Fearless), Kendal Green (dam of Gr1 winning 2yo, This England), and Wild Ash (dam of Met winner Wild West).
Dance Every Dance (Northern Guest), winner of the Fillies Guineas in 1995, is granddam of Equus Champion and triple Gr1 winner, Capetown Noir (Western Winter), while Sparkling Gem, winner of the race in 2008, is out of a daughter of former Cape Fillies Guineas winner, Flying Snowdrop.
Field Flower (Silvano), who won the Cape Fillies Guineas in 2009, is responsible for the exciting unbeaten Cape campaigner, Last Winter (Western Winter), while Shadow Dancing (Fort Wood) is second dam of the promising Love Supreme (Silvano), who takes her place in Saturday's WSB Cape Fillies Guineas.
Another former Cape Fillies Guineas winner with a smart current performer is Ebony Flyer, who is dam of this season's potential classic contender, Cot Campbell (Trippi).
However, it is not only the winners of the Cape Fillies Guineas who have made their mark on the South African stud book, plenty of placed runners and even also-runs have left their mark at stud.
One can but wonder what Mother Russia, runner up in the 2008 Gr1 Cape Fillies Guineas, might have achieved with a longer innings at stud. Her only foal is Gr1 Empress Club Stakes winner and Sunday's Gr2 Ipi Tombe Stakes winner , Nother Russia (Tiger Ridge).
Champion, Consensual (Camden Park), fifth behind Sparkling Gem and Mother Russia in the 2008 classic, has also made her mark, as dam of Cape Fillies Guineas winning Equus Champion, Just Sensual (Dynasty). Consensual is out of a daughter of Fillies Guineas winner, In Camera.
Secret Heart (Fort Wood), who was third in the race back in 2002, produced two US graded stakes winners before her early death, including Breeders' Cup Juvenile Turf winner and sire, Pluck, while Resolution Bay (unplaced in the 2002 renewal) went on to produce short-lived Gr1 Paddock Stakes winner, Emerald Cove.
Festive Occasion (Casey Tibbs) was second to champion, Sun Classique (Fuji Kiseki) in the 2006 race, before she went on to breed Gr1 Woolavington 2000 winner, Do You Remember, to the cover of Silvano. Subsequent Horse Of The Year, Ilha Da Vitoria (Candy Stripes), could only finish second to stable mate, Emerald Beauty, in 2003, but enjoyed more success at stud than the latter. Now deceased, Ilha Da Vitoria produced offspring including Gr2 SA Oaks winner, Ilha Bela (Fort Wood), as well as Listed Oaks Trial heroine, Ilha Grande (Tiger Ridge). The latter, sadly also deceased, is dam of Gr1 SA Fillies Classic winner, Orchid Island (Silvano) and sales topping debut winner, Sugar Girl.
Another Fillies Guineas runner up to leave her mark on the South Africa turf as a broodmare was Fair Model (Model Man). Fair Model features as second dam of reigning Horse of The Year, and six times Gr1 winner, Legal Eagle (Greys Inn), who bids to defend his title in Saturday's Gr2 Green Point Stakes. While the 1997 Cape Fillies Guineas winner, Igreja (Southern Halo) proved a disappointing broodmare, her beaten rivals in the classic, Taineberry and Annie proved just the opposite.
Subsequent Natal Oaks winner, Taineberry (Centaine), has founded something of a legacy in South Africa with her descendants including dual Guineas winner, Solo Traveller (Western Winter) and last season's Gr2 Golden Horseshoe hero, Purple Diamond (Var). Like Taineberry, Annie (Trigger Finger) went on to bigger and better things after her unplaced run behind Igreja.
To the cover of Western Winter, the Eastern Cape star threw both Equus Champion 2YO, Ice Cube, and Gr2 Green Point Stakes winner, Jagged Ice, and Annie is also second dam of Listed Settlers Trophy winner, Arezzo (Go Deputy) and promising 3yo, Pietro Mascagni (Silvano).
Another subsequent high class broodmare, who could only finish down field in a Cape Fillies Guineas, was Fair Spanish Lady (Del Sarto), who failed to feature in the 1989 Fillies Guineas.
Winner of the 1988 Gr2 Sceptre Stakes, Fair Spanish Lady went on to produce high class feature race winners, Lady Of Cadiz (Gr3 Kenilworth Fillies Nursery), Barcelona Baby (Gr3 Southern Cross Stakes) and Spanish Blade (Gr3 Cape Of Good Hope Nursery).
Another unplaced runner in the 1989 classic, Crescent Fields, also found success at stud. The daughter of great broodmare sire, Northfields is dam of multiple Gr1 winner, Surveyor (Western Winter), whose wins included both the Gr1 SA Classic and Gr1 Triple Crown 1600 of 2003 – both times accounting for subsequent Horse Of The Year Yard-Arm.
Thatching's Fire, who finished third in the same race, went on to breed Gr1 Germiston November Handicap winner, Fov's Fancy, herself dam of high class racemare, Frequent Flyer (Silvano).
‹ Previous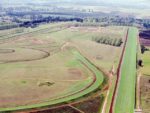 Summerveld Sale Catalogue Online