An independent panel consisting of Messrs V Moodley, J Vermaak and R S Napier convened on 10 November 2017 by teleconference to hear a Merit Rating Appeal lodged by Trainer Mike de Kock on behalf of the horse Pietro  Mascagni.
The appeal was against the Merit Rating of 79 allocated after he competed and won Race 3 at Turffontein Racecourse on 31 October 2017. Trainer de Kock believed that PIETRO MASCAGNI should have been rated closer to a MR of 88.
The Panel was of the opinion that PIETRO MASCAGNI could be much better than rated, but the Handicappers used the option of STAR OF JOBURG as the line horse and by doing so, PIETRO MASCAGNI achieved a MR of 77.
The Handicappers themselves acknowledged PIETRO MASCAGNI's performance by giving him an extra 2 Merit Rating points for that win and therefore gave him his official MR of 79.
The Panel also took cognisance of the current Guidelines and the industry instructions to "protect" maiden winners and give them the opportunity to go through the divisions and not "over-rate" them. The entire Guidelines have a "protection" mechanism linked to them.  Until and unless these Guidelines are re-visited, it will be extremely difficult to adjust horses MR upwards selectively.
The Panel agreed that due to the current Handicapping Guidelines and rating of all other maiden races, the rating given to PIETRO MASCAGNI is appropriate.  As a result, the Appeal is over-ruled.  The deposit fee will be returned.
Ed- SP rating for Pietro Mascagni for the race is AR 81.
‹ Previous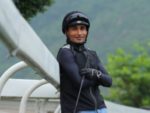 Top Trio Head To Singapore