Nobody has to sell you on the Ready To run format – it's tried, it's tested and we know it produces the goods. Add Cape Thoroughbred Sales into the mix, with their menu of high value stakes race incentives and it combines into a very attractive package.
While early Ready To Run sales may have been regarded as an outlet for horses that couldn't qualify for other sales, not only has the discipline of prepping Ready To Run horses evolved, the costs associated with getting a horse to November of its two-year-old season are a sufficient incentive to ensure that vendors are discerning in selecting candidates that merit the additional investment. All of which means that discerning buyers can shop with increasing confidence.
Ready To Run Stalwarts
Normandy Stud has become particularly adept at the Ready To Run concept and Oscar Foulkes comments, "Much as we would like to sell in January, someone who has to buy in January also has to imagine what their yearling will look like in a year's time, let alone how it will grow, move etc. so one has to weigh up the risks and the rewards." Given that decisions need to be made very early on, so as not to miss out on the round of Yearling Sales, how does one select a Ready To Run candidate? "Most of our Ready to Run horses this year have been on sales earlier in the year. For example, the highest bids for both our two Dynastys added up to less than one service fee. So, to some extent, these are horses that we think slipped through cracks in the market. But we also need to be realistic about them – stakes-winners represent just 3% of all foals born. It's a big investment to go through Ready to Run preparation, so we have to believe that the additional costs are warranted. We're not relegating 'what's left', or trying to qualify horses for sales races – we're there to sell. However, we've been very fortunate that buyers of some horses have allowed us to keep a share (Cap Alright and Nordic Breeze are prime examples of this)."
No Brainer
"Ready To Run is a sale format that I regard as being a no-brainer from a purchaser's point of view because it's an opportunity to remove risk from the exercise of buying a horse. It offers extra value in that someone else has paid keep until the horse is in training and some of the horses could be in a race within weeks. Buyers have the opportunity of seeing how they move at pace. Thanks to CTS, there are two different sales races for the graduates and there are only 149 horses on the sale competing for spots in those fields."
From a vendor's perspective, if you have a good horse, you stand a good chance of getting a fair price. "We've been sending horses to Ready To Run sales for nearly 30 years and regard it as a very important part of our sales planning for the year. We are very particular about which horses we hold back for this sale because it can add R50k or more to your cost, so you want to be fairly sure it's a horse that will be worth investing in. However, it also means that we are pretty confident about the drafts we do send and I hope that the race records of our graduates in recent years is indicative of this.
But you don't have to take his word for it. The proof of the pudding is in the eating and previous success stories include millionaire Cap Alright, sprint talent Knife Edge, graded stakes winner Quick Wit and stakes winning fillies, Rose Dancer and Azania. Their 7-strong draft for 2015 produced 3 graded stakes winners in Nordic Breeze, Sergeant Hardy and Crowd Pleaser. Last year's draft included graded stakes winner Wonderwall and dual stakes-winner Barrack Street. With most of that crop still in training, they may yet add to those figures.
2017 Draft
They believe their 2017 draft of 9 plus 19 as agent, is their strongest ever and includes progeny by Dynasty, Captain Al, Silvano, Twice Over, What a Winter, Trippi, Var and Gimmethegreenlight.
Asked to talk us through the draft, Oscar starts with Lot 9, a colt by Captain Al out of Arctic Breeze (family of Nordic Breeze and Rushing Wind). "He's not the biggest in the string, but the family doesn't produce big horses. People can get a little carried away about size. As they say, if they're good enough, they're big enough."
"We consigned Billy Silver to the Premier Sale as agent, and Lot 10 is a powerful Silvano colt in similar mould."
Lot 24 is a colt by Mambo In Seattle out of Carla's Wisdom. "We bought the dam because she's inbred 2×3 to Blushing Groom. It may not be a fashionable pedigree, but she's had 3 foals and all three have won.
Lot 35 is a Dupont colt out of Dancing Delight. "This is from our In Camera family and we're very happy with the way this colt has come along."
Lot 57 is a Dynasty colt out of Genteel Approach which Oscar describes as 'on the small side, but beautifully conformed. The dam is a half-sister to Fabiani and Star Empire which raced in Dubai.
Lot 85 is a Trippi colt out of a half sister to Bravura. "We kept this one back, because when we looked at him in January, he was still a little behind the rest of the group and has benefitted from having the extra time. He's from the family of Mother Russia and Winter Solstice."
Lot 138 is a Philanthropist colt from the same family, which is eligible for the $500,000 and is a nice, scopey colt.
"The pedigrees of our 'as agent' horses suggest that most of them will stay classic distances. For example, Lot 99 is by Ideal World out of a daughter of Silvano," adds Oscar.
Eight of their draft are eligible for the CTS sales races, meaning they are graduates of either the Cape Premier Yearling Sale, the Emperor's Palace Yearling Sale or the March Yearling Sale. "We've already paid the owners' premiums on those individuals, so anyone buying one of those horses is getting a very attractive deal. The only premium to pay is for the Ready To Run Race, so that's really amazing value. In addition, with only 149 horses on the sale, and 16 runners in the Ready To Run race, there is a 10% chance of getting in."
Oscar continues, "The Kuda race will once again be run on Met day and there's no buyer's premium to pay. While not all horses will be precocious, the first baby race is on 18 November, so should anyone be so inclined, you could nominate your horse for that race the day after the sale. No-one's going to do it, obviously, but theoretically it's possible. Lot 80, by What A Winter, is the type one would expect to see running early."
Gallops will be held at Durbanville Racecourse starting at 9:30am on Thursday, 16 November and the sale starts at 6pm on Friday, 17 November 2017.
‹ Previous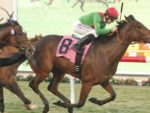 Highlands Buy At Keeneland