Sheikh Hamdan bin Rashid al Maktoum's R2 Million Silvano colt debuted on 31 October in a Maiden race at Turffontein.
Pietro Mascagni, named by some cultured purveyor of the operatic arts, has boomed his way into testing racing's jurisprudence, writes Tony Mincione.
Rather than go into the calculations of ratings, Pietro Mascagni raises more interesting questions about our processes of errors and corrections, and how we think about things.
Are we a slave to ratings now, or should they be a guide to an end goal, and what would that be?  Mike De Kock clearly has a view and somehow is always at the coal face of these things.  He called for another look at the rating of his charge because it's better than it looks in his opinion.
Yes, they had to bring a ratings argument for the appeal, but that misses the point.  Lets agree there is always another line horse which suits another point of view, and get to the point.

The handicappers did their work, arrived at a number and that's good enough.  There is nothing fundementally wrong with what they did and that is what the appeal panel said.
Yet, what they also said is exactly what Mike De Kock was putting to them.  This doesn't feel like an ordinary 70-something to him.  It didn't when they paid R2 Million, it didn't when it won on debut, and it doesn't in the light of his cracking bunch of 3 year olds that have emerged.  Or so I assume.
It turns out they gave him an extra 1 Kg 'bonus'.
One of the panel, Justin Vermaak, broke ranks to publish a defence of what they did.  He says, "it is very obvious to see that PIETRO MASCAGNI and the placed runners are above there ratings in true ability".  Sadly this is exactly the point, and it was in front of them the whole time.



The handicappers did their job.  The Appeal Panel's job though is not there to frank the arithmetic of the handicapper.  Their function must be broader, to consider appellants when they bring the difficult issues forward that confound the rules.  To fix conundrums that conflict with the regular stuff  that racing can process on a daily basis, as it should.
Some would argue that we can only measure horses by what runs behind them.  That is true enough but now and again a good horse can only win and those behind him might not do him justice, especially not at first.  We don't need to look at the list of runners up behind good horses to make the point.
In a way, the handicappers do have an "agenda".  When ratings are unclear or ambiguous they tend to err on the conservative path so as not to "punish" horses.  If they choose wrong, then they can fix it on the next turn.
Mr De Kock also has a "not-so-hidden" agenda.  We can guess that he wants to get some of his more promising sorts to the high stakes table a.s.a.p.  But he faces a biased system, bent towards pessimism when it comes to ratings of young horses.
It's their stated policy as admitted by Mr Vermaak, "the handicappers have been strongly encouraged to "err on the side of caution" by the handicapping committee when rating young horses and afford them opportunity to "win through the divisions".
Here is where our Appeal Court should step in, and when see that the handicappers hands are tied should apply their minds to a view from higher up.  To just agree that their hands are tied is to admit you failed in your role as an Appeal Board.
There are three questions to consider:
It is not whether the handicappers are right or wrong, but are "we" are getting it right… or not.
So is Mike de Kock right, that Pietro Mascagni is better than 77 or 79?  The handicappers look like they think so.  The panel thinks so according to Vermaak's admission.  The betting thought so before the race and the everyone who saw the race would be wishing they owned that one.  The jockey thinks so, as does the rider of the runner up and the rest of the weighing room.
This is not an exact science, and neither do we want it to be.  To refine the question: it's not even are the appellants right, but are they PROBABLY right?
And yes, they probably are.
Now that we know what we think, the next question is what can we do about it? Can we raise the rating and is the applicant probably right calculating 88?  Well, they got my vote.
We can view the 79 as a rating and the 88 as a "penalty".  The connections want to penalise themselves, or from a handicapping point of view, they argue that they are lengths better than they might appear at face value.  If it's not unreasonable, then why not?  Again, as an inexact process, are they probably right?  I would bet they are, and so what if they are wrong?
The last question is does this have adverse consequences to anyone else?
Handicap ratings are sometimes used to select horses for feature races and a higher rating could get Pietro Mascagni into such a race.  Could that knock someone else out?  Clearly the answer is yes.

But, ratings for all horses are from the handicappers.  They use computers and the expertise of dedicated people, they use best fit techniques, experience and rules.  And sometimes it just looks wrong and then there is an appeal.
The Appeal Board should fix what is wrong, or at the very least try to move towards what is more correct.
If it changes the order of an eligibility list, it still has to be done.  Someone else also has the remedy to claim a higher rating should they feel their rating is wrong.
So the question changes to "does this have an UNFAIR adverse affect on anyone else?"  And the answer is that it's only unfair if they don't correct wrongs or make outcomes better.  Whether they raise or lower ratings will change the order of things, and that is a natural consequence of the process.
‹ Previous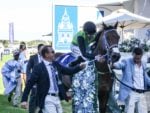 We Are The Champions