The R5 million Sun Met is now officially the blue riband of the South African turf, with the 2000m contest's newly accorded weight-for-age status getting an overall stamp of approval from some of our leading trainers.

The January social spectacle dates all the way back to 1883 and is run at South Africa's oldest – and most beautiful – racecourse.
The balancing act of quality versus the need to ensure the betting turnover that powers the engine of the Sport Of Kings, appears to be of less concern than was envisaged and the overall consensus is that a striving for excellence is of far greater priority.
SA champion trainer Sean Tarry, who saddled 2005 Met winner Alastor, summed things up well. He  said that he felt that the decision was a good one and that it was easy to talk from one's own perspective at any given point in time.
"I definitely didn't start off training with my present string and I may well have Legal Eagle this year – but who says I get to saddle a Legal Eagle every year? In the bigger scheme of things, it's a raising of the bar and that's to be commended," he said.
Please click on the image below and read plenty more

‹ Previous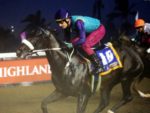 KZN Starter To Be Sanctioned