ALEC LAIRD, STANLEY FERRERIA, SEAN TARRY and LUCKY HOUDALAKIS
Prefer not to comment.
DAVID KUIT
Race 3 – COJIMAR (4): She will need the run and is looking for a bit further.
MATTHEW DE KOCK FOR MIKE DE KOCK
Race 3 – GLAMOROUS SCANDAL (9): Has not been showing bad work but will improve off this run – has a place chance.
BAREND BOTES
Could not be contacted for comment.
Disclaimer: A Gold Circle information initiative. The views and opinions expressed in this article belong solely to the quoted author and stable represented. None of Gold Circle, the author, trainer or trainer representative, accept liability for any damages that may arise from any reliance placed on the views expressed therein.
‹ Previous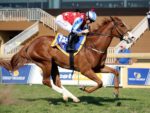 Miss Frankel Out After Injury