Rumours of a boycott by trainers of Monday's  meeting at Durbanville appear to have fallen on deaf ears in many quarters and despite the fact that just 52 runners are carded to run, the meeting will go ahead.
Tabnews reports that some trainers are not even sure what the alleged boycott is all about but at the end of the day conditioners such as Candice Bass-Robinson and Dan Katz have had no compunction about running their horses.
"I don't have any reason not to," Bass-Robinson told Tabnews on Thursday.
"Whatever the issues are we need to solve them in other ways.There are issues that need attention but this is not the right platform to deal with them. We have to act in the best interests of our owners," she added.
Katz trains specifically for leading owner Hassen Adams, who insisted that his horses run.
"I thought it was very decent that the operator agreed to pay a R1000 bonus to the trainer of every horse that crosses the line," added Katz.
‹ Previous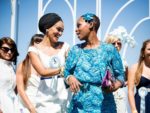 RA's Royal Omission