In this day and age when attendances at race meetings are falling faster than our betting turnover, the perennial problem of how to market the sport – and how to market it to a new generation of racing enthusiasts – is an on-going and persistently problematic one.  An interesting experience with some telemarketing companies got me thinking.
A little service goes a long way

It seems one now gets calls trying to sell you anything from car to funeral insurance.  While the odd one is OK, one tends to lose your sense of humour when you progress to several of the wretched things a week.
There are a number of websites and discussion forums on the subject offering all sorts of creative solutions.  As it's that time of year, one of my favourites is to hand your phone to a 5yo and tell them it's Father Christmas.  I like to have some fun and take on the telemarketers at their own game and try to sell them something back.  I recently got pretty close to talking someone into attending a sale.  True story.
As I dislike companies using my personal information to invade my privacy, I like to escalate the matter to a manager and lodge an official complaint and it's resulted in some interesting experiences.  One company was fast, efficient and polite, listened to my complaint, apologised abundantly – and more importantly immediately – skilfully diffused my ire and did their best to be of assistance (it turns out you can deregister yourself via the National Opt-Out Database –www.nationaloptout.co.za), leaving me very positively disposed and likely to recommend them and their services to others going forward.   Another company has been nothing but obstructive, rude and dismissive, creating a much more protracted and unpleasant experience (on both ends of the line) than had they simply resolved my initial complaint on the spot.  What started out as mild irritation, led to being convinced that I never want anything to do with their company or their services as long as I live.  Moreover, I will happily advise anyone who will listen to avoid them too.
The point is that it is incredibly easy to swing things either way.  Which leads me to look at some super (as well as some not so super) recent examples from racing.
The good, the bad and the downright ugly
Firstly, let's talk transport.  There have been distinct rumblings on the horizon that all was not well when Choice Carriers' name disappeared from the Fillies Championship on 28 October without a word of explanation.  Then came the 11th hour notice from Kenilworth Racing that there would be a new transport contractor as of 1 December.  As the announcement came a whole three days before the changeover, and listed the new supplier as an entity no-one had ever heard of, it was pretty much guaranteed to raise questions, never mind hackles all round and instead of inviting in the new incumbents, everyone got rather good and cross, and everything got off on the wrong foot.
No-one is taking issue (or sides) with either of the transporters.  Without facts (always in short supply) one cannot take issue with the presumed logic behind the decision to change.  However, what one certainly can take issue with, is the way the matter was handled, which has left absolutely everyone on something of a sticky wicket. Suffice to say it will not go down in history as an example of how to make friends and influence people.
Summer Cup Wash-Out
Then we had Summer Cup Saturday-turned-Sunday.  While no-one can help the weather and losing a race meeting affects all of us, the heavy going was to prove even more treacherous on the Tote as the well intentioned idea of adding the Joburg feature to the Cape 'menu' resulted in the systems crashing for the day, causing untold irritation and aggravation.  I happened to be on course at Kenilworth for the Western Cape Equine Trust race day and as it was a charitable event, everyone donned their best blitz spirit and tried to soldier on as brightly as they could, but races were delayed, horses got confused and worked up, and there was not even an explanation offered, let alone an apology.  Which was tragic as while the racing fraternity turned up in numbers to support the charity, there were a good few Joe Normal folks invited to the day as well.  What must they have made of it all?
Races go missing (RIP Jet Master Stakes), meetings get moved to just about any old day – and time – of the week to accommodate a foreign (in all senses of the word) programme and while we're on the subject of programmes, there never seems to be more than about 5 race cards to be found on course for any given race meeting.  Now before I get in trouble for having a whinge, this one actually isn't selfish at all as I'm reasonably capable of picking out a good number of horses on sight, and even if I can't, am perfectly capable of enjoying an afternoon's racing without having to know the name or breeding of the horses that win.
However, there is someone at the course who needs a little more information and that's the punter, who is constantly encouraged to bet bet bet.  If you go to a restaurant, you are offered a menu.  How are people supposed to bet without knowing what's running?  I realise that most people have access to smart phones nowadays, but are we expecting people to bring their own race cards?  It's honestly starting to feel as though we don't want people at the course.
Fillies Guineas Flop
The next big feature race day was the much loved Cape Fillies Guineas on 2 December, with the Cape Merchants and Green Point Stakes sharing the billing.  There were visiting trainers and jockeys from all around the country, eye-wateringly, stupendously exciting horses, our dual Horse of the Year making his Cape seasonal debut and a will-she, won't-she conundrum in the Fillies Guineas over Snowdance and yet another sterling effort from Snaith Racing who turned up fully loaded and produced 5 winners on the card.  What there wasn't, was any build-up, any crowds or, far more maddeningly, any name panels on the number cloths.  I've previously raised the matter with a member of the Kenilworth team and was informed we get name panels for sponsored races only.  Well, the Fillies Guineas is a Gr1 and it was sponsored by World Sports Betting (who also sponsored the Merchants and Green Point Stakes), so we can safely tick that box.
I checked the form for Gauteng Guineas day (also run under the auspices of Phumelela) and oddly, all of the Gr2 Wilgerbosdrift Fillies Guineas and the Gr2 Betting World Gauteng Guineas runners sported name panels on their number cloths.  So why no name panels for a sponsored Gr1 in the Cape?
The food trucks seemed to go missing en route to the course, leaving the day tripping unfortunates in the cobbled together 'paddock' area stranded and then I'll hand out an award as it seems no-one else was doing it – my favourite faux pas of the day goes to whoever forgot to organise the trophies and BSA cheques for the post race presentation.  For the main race.  Ai karamba.
Elephant in the room
Also, while it doesn't seem the done thing to discuss it, there is a rather pressing mainstream news issue which is likely to have repercussions for racing.  Where is our leadership?  Not a peep from the Operator and not a peep from the NHA, with the Chairman, CEO and Racing Control Executive busy with presumably more pressing matters at Hong Kong's international meeting.
The Southern Cross Stakes race day, sponsored by SW Securities (who seem terribly nice people), also produced some lovely racing.  But again, sadly no marketing and no crowds.
Our horses and horse people are undoubtedly all running their socks off.  What's happening on the other end of the bus?
A few bright spots
Fortunately, there were also a couple of bright spots to lend hope that there are still people with a grip on the fact that the best way to win new fans (and keep old ones) is simply to treat people well.
The first was Varsfontein Stud's incredibly kind gesture in posting 4yo Emmanuel Teunissen, a racing fan with a particular soft spot for Bela-Bela, a surprise package of some photographs and a letter from their champion filly as well as a snip of her mane.  I can only imagine how much this meant and what an impression it is likely to have made – not only on Emmanuel, but on everyone who knows him.  It was not only incredibly kind, but it touched an upcoming generation and gave them an early, positive experience of racing and also paid dividends for the farm as the story has been shared several times over – as it well deserves.
The second win came from a young lady named Romi Bettison, who works at Moutonshoek Stud and who many of you may have met on visits to the farm or tending the Moutonshoek draft at sales.  Romi made the time and effort to show an enthusiastic young teen around the farm, allowed her to check off a bucket list item of sitting in a paddock and having a foal fall asleep on her lap and even let her young guest experience delivering a foal.  Again, a small gesture from one person with a life-changing impact on someone else.  There were shares, likes and positive feedback aplenty and well deserved too.  It's people and gestures like this that put us all in a positive light and give us a reason to be proud of our community again.
It reminded me of an interview I read on Ed Sheeran.  Asked for the secret of his success he gave one of the most interesting answers I've read.  He says his father once told him the key to doing well is to work harder and be nicer than everyone else.  James Blunt was topping the charts at the time, so Ed got a copy of James' work, recording and touring schedule and doubled it.  He also made it a priority to be as nice as he could to everyone he dealt with.  Seems to be working out pretty well for him.
Perhaps instead of 'rushing' around and oversized hospitality tents for one-off events for one-off visitors, we should just try being nice to people instead.
‹ Previous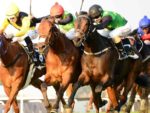 Deo Juvente