As we wait for this evening's Greyville meeting to continue, we have to admit it's been a helluva seven days for South African racing.
A quick glance at the diary…
Last Friday evening the Greyville meeting was abandoned after two races, thanks to lightning.
On Saturday, our Tote crashed and the Summer Cup meeting was postponed to Sunday.
On Tuesday the Vaal meeting was abandoned after the fifth,  due to the weather.
On that same Tuesday a jockey lost his lead at the Vaal and then after reweighing and returning to the start of the third, he couldn't find his whip.
On Wednesday the Vaal Classic meeting was abandoned after the fourth race, thanks to the weather.
On Thursday, the French dictated the longest Kenilworth meeting in history – with boringly long intervals between races – all to suit an overseas jurisdiction.
On Thursday, the best bet on the Kenilworth card, Afdeek, blew in the betting, cast his left fore shoe on the way to the start and ran unshod in front – running a dirty second, to a horse whose Equine Influenza injection was out of date.
This evening, a power outage at a sub-station caused a delay as there was no power at Greyville.
Then the lightning arrived.
The meeting has been rescheduled with the last due off at 22h15 – what time do the stable staff get to bed?
Any points to add?
‹ Previous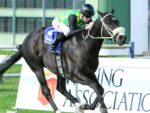 Go Wide Here