Jallad passed away at his home at Highlands on Sunday, 10 December 2017 after 29 years of a grand and storied life.
He was an extraordinary horse, with an extraordinary story, that has left a legacy of friends, fans and feel good memories in his wake.
Hobby horse
The 'Jallad story' really begins with 'the Petrava story'. According to Jean Jaffee's book, "They Raced To Win", Laurie asked Chris Smith to look at a shortlist of yearlings on the 1983 Trentham catalogue. Smith responded, "I'll be frank. I wasn't wild about any of the horses on the list, but while going through the catalogue for the umpteenth time, my eye eventually settled on Lot 409, bred by Fairdale Stud. The stud was offering a filly by second-season sire Imposing (Aus), out of the 10-time winning mare, Silver Liner, out of eight-time winner Ajasco by Pakistan II by Palestine. The problem was that she as a shabby-looking thing with a head like that of a hobby horse!"
However, Smith was instructed to buy the filly and she duly arrived at the stables of David Payne a few months later. At the time, the Jaffees were looking for a house in St James and Laurie fell in love with a house called Petrava, but ultimately decided it was unsuitable and purchased one further down the road called Hoeberg instead. However, Laurie was so taken with Petrava that he chose to name their new filly after it.
Robin Bruss is well acquainted with the story and kindly shaded in a few details. "Petrava was a daughter of a Gr1 winner (Silver Liner) who herself was out of a Gr1 winner (Ajasco). Silver Liner was also the product of two Gr1 parents, so she was pretty well bred. Petrava came here to race and was an immediate success. She was trained by David Payne and won her first race (at the second time of asking) by 11 lengths. Then she just won race after race." Petrava was named Champion 3YO Filly of 1984 and closed her career with 10 wins, including four at Gr1 level.
Contentious Sale
At the end of her 4yo career, Sheikh Hamdan al Maktoum offered US$500,000 for the filly, exported her to Kentucky and mated her to some of the best bluegrass sires including Blushing Groom.
Robin continues, "At the time, there was a lot of controversy about imports and exports and about imports in particular. In those days, the TBA was headed up by Bob Birch, who decided in his wisdom that the TBA should control the quality of horses being imported and imposed severe restrictions. One of these was to limit the entire industry to 20 horses per year. Anybody who wanted to import a mare had to apply to the TBA for permission for import licenses and had to motivate the application. The TBA would determine who should be allocated a permit and what quality of horse they were allowed – it was pretty draconian."
Having imported Petrava on the grounds of improving the breed, the TBA criticised Jaffee heavily when he sold her abroad, taking particular exception to the fact that local breeders hadn't been offered the chance to even bid on her. "Jaffee was very miffed at the time," remembers Robin. But it would all work out in the end.
Full Circle
Petrava produced a number of foals for Shadwell, including a 1988 colt by Blushing Groom named Jallad, who was sent to the UK and placed in the care of Lambourn-based Peter Walwyn, who had won the Derby with Grundy back in 1975. In one of those strange twists of fate, Walwyn also recently passed away – 3 days before his erstwhile charge. Jallad debuted at York as a 2yo, winning the 6 furlong Moorestyle Convivial Maiden Stakes with Willy Carson in the saddle.
"It was clear he has ability, but he then had a problem with his wind and had a soft palate op," continues Robin. "It was unsuccessful, so they then did a Hobday, which was also deemed unsuccessful, so as a 3yo he did nothing much. His rating was about a TFR86 and he pitched up on the Tattersalls Autumn Horses in Training Sale in 1991. I happened to be in England and saw his name in the catalogue. I was working with an agent named Luke Livingstone and he went and found out about the wind ops. One of the common wisdoms is that wind problems are more common in the UK due to the damp and sometimes in the African sun, the problem doesn't manifest, so I decided to take a chance and phoned Jaffee up. I said, "Here's the plan, the breed society complained when you sold the mare. Why don't you take a chance on this horse? It will go for nothing, you can buy him, bring him to South Africa, race him and hope his wind problems don't resurface."
Jaffee agreed and gave Robin a mandate to bid to 5,000gns, but Robin had to go to 6,600gns to secure the colt. Jaffee remonstrated with Robin that he'd overpaid and approached Graham Beck to take half. "It became a bit of a running joke that I'd spent so much money he had to ask his friend to take a share," he chuckles.
South Africa
Jallad arrived at the Durban quarantine station on 19 December 1991. He made his South African debut in a 1600m Novice Plate at Greyville, finishing 5 lengths third to Mount Siki. Beck was less than impressed, telling Payne he'd kiss him if Jallad won so much as a single race. He would eat humble pie as Jallad won 8 times including the Durban Merchants when he bested the likes of Foverflo, Dominof and Marie Galante.
David Payne remembers him as "A grand old horse. His wind did affect his ability and he was a better horse in the Cape with the South Easter in full force, although he did perform in Natal as well. A wonderful family to the Jaffees and myself." Douglas Whyte, who partnered the old soldier throughout most of his South African campaign described him as, "A gentleman to ride, he never knew he was a colt that's how kind he was. Great turn of foot.  If he never had wind problems, he would've been one of the best in SA!"
At the end of his racing career, it was decided to give Jallad a chance at stud, so he retired to Highlands and served his first book of mares in 1993.
No Oil Painting
While Jallad had many wonderful attributes, good looks weren't one of them. "He was not exactly an oil painting to look at," says Robin bluntly. "And he inherited all the faults from both his parents, but they were both champion racehorses. He was by a champion, out of a champion, his granddam was a champion and his great granddam was a champion. That's not something you see often."
With his breeding career entrusted to the very capable hands of John Freeman and his day to day management to Mike Sharkey, Jallad could not have been in better hands. In his first year, Jallad covered 50 mares and produced 40-odd foals and that first crop came out running from the first bell. He was champion first crop sire and suddenly people were queuing up.
"The beautiful part of the story for me," continues Robin, "was that I ended up making 5% commission on the 6,600gns, which I had to split with Luke. When Jallad did well at stud, I went back to Jaffee and said wouldn't it be a nice idea if he gave me a free service. I actually asked for a lifetime service right, so that I could continue supporting the horse and Jaffee's response was, "My boy, a lifetime is a long time, anything can happen, so I'll just give you one." I sent him Teclafields, my gift mare from Sydney Press and got Zebra Crossing, who won the 2006 Met. So there you have it. What started as a funny little deal and my gift mare and my free service, ended up producing a Gr1 winner."
Legacy
Jallad got winners from 1000m to 3200m and whether they were fillies or colts, they knew how to run. His stud legacy included 60 stakes winners, including 16 Gr1 winners. "Jallad got progeny with a lot of substance, size and strength," continues Robin. "The Jallad mares are usually big bodied, with a lot of power. He himself had a big head and long back, he was crooked in front with offset knees and hocks camped out behind him and often passed on some of his faults, but you closed your eyes and bought them anyway, because that's how they ran. There was attrition with those legs," continues Robin. "I don't know what numbers dropped by the wayside, but he was a great sire."
Jallad stood down from stud duties in 2009, but will best be remembered for Horse Of The Year and seven time Gr1 winner Free My Heart, ill-fated champion Rabiya, Cape Derby hero Grande Jete, J&B Met hero Zebra Crossing, Equus Champions Icy Air, Russian Sage and Succesful Bidder, star sprinters Scarena and Vega, Gold Cup winner Major Bluff, Garden Province Stakes winner and outstanding broodmare Lyrical Linda, and Woolavington winner Zirconeum. But there were many more.
Hoeberg
However, the story doesn't end there. Petrava was sold to Peter Vela's Pencarrow Stud in Cambridge in her native New Zealand, producing a Maroof filly on 17 September 1997. The Jaffees bought the filly and brought her to South Africa. They named her Hoeberg, after their home in Cape Town and as with the rest of the family, sent her straight to David Payne. She won the Cape Fillies Guineas, the SA Fillies Guineas and the Paddock Stakes and was SA's Champion 3yo Filly in 2001. "It's the first mare I've seen four successive generations winning Gr1's," marvels Robin.
From South Africa, Hoeberg went to Singapore where she won the Gr3 Singapore Classic and then to Dubai where she finished 3rd in the Dubai Duty Free. She was tried in the Singapore Airlines Cup, but Universal Prince's fall mid-race put paid to her chances. Hoeberg then went on to David Payne in Australia where she ran second to Lonhro in the Gr2 Appollo Stakes after which Robin brokered a deal to sell her to stud to Winstar Farm in the USA. Before she died, she produced a filly foal which Robin managed to purchase and she has produced two filly foals who are currently in Saudi Arabia.
Serendipity
"So you see, if the TBA hadn't criticised Laurie Jaffee for not allowing local breeders to bid on Petrava, he wouldn't have been so miffed that he bought Jallad back. Of course, once he was a big success, he could say it was always his plan to bring the blood back and that his grand plan was much more expansive than just selling the mare abroad!" laughs Robin.
"Jallad had a big impact on the breed. He was champion first crop sire, he won a general sires championship in 2001 and is having an impact as a broodmare sire with his daughters producing Gr1 winners Eyes Wide Open, Martial Eagle, Solo Traveller, Shea Shea and recent Sansui Summer Cup winner Liege."
"I'm a big fan of stallions out of Gr1 winning mares and he's one that proves that theory. There's a chapter on him in Jaffee's book. I know the story I've told is a little different from her version, but there you go. A champion sire, bought for a song."
‹ Previous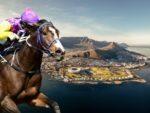 Mayfair Speculators To Exit Shareholding